A post inviting people to create application profiles for Namibia Statistics Agency vacancies is going around on social media
The message which has been circulating in Namibian WhatsApp groups since April 2023 follows on one Namibia Fact Check had debunked at the end of March 2023.
The viral  post (image below) reads:
"NAMIBIA STATISTICS AGENCY RECRUITMENT 2023

To apply for our vacancy, kindly click on the link below to create an application profile. Apply Here"
The "Apply Here" in the post is followed by a link, which does not connect to the official Namibia Statistics Agency website.
On 5 May 2023, the NSA issued a statement on its social media feeds stating the recruitment post was "Fake" (image below).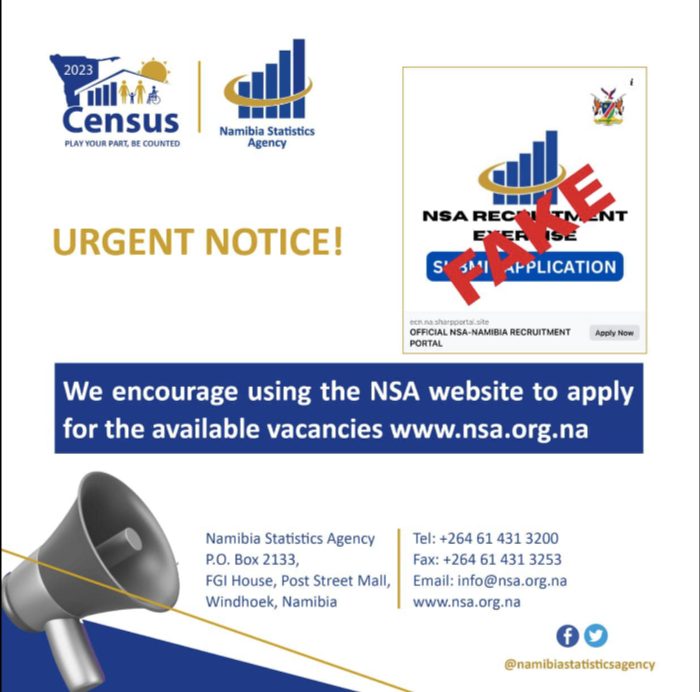 However, this has not stopped the post or similar posts from continuing to circulate in WhatsApp and other social media groups.
Context
The Namibia Statistics Agency (NSA) is in the process of planning and preparing for the population and housing census which is expected to take place later in 2023. Over the last few months the NSA has advertised vacancies on its social media feeds for some positions linked to the upcoming census.
Taking advantage of this, scammers have been running a number of recruitment scams on social media. At the same time the NSA has repeatedly warned social media users (image below) to not fall for these scams.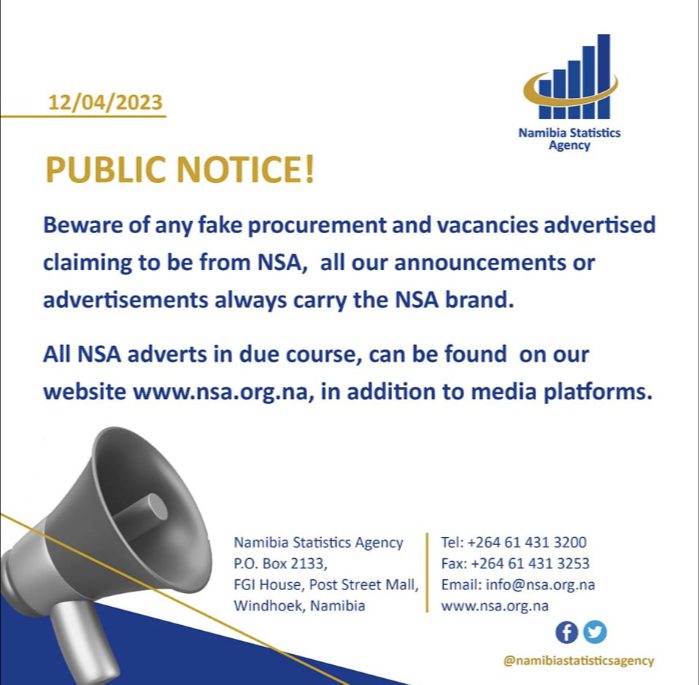 It should be noted that on its website the NSA states that "There are currently no vacancies".
WhatsApp and social media users are thus urged to be careful of jobs posted in WhatsApp groups as there appears to be a torrent of identity theft scams disguised as employment opportunities or funding calls currently sweeping through chat groups.