Photo by Prasesh Shiwakoti (Lomash) on Unsplash
Want to know how long you should wait for your results or what to do after testing? Read on.
As Namibia's COVID-19 cases have risen sharply through August 2020, many more people have gotten tested.
However, at the same time there have also been numerous reports of testing backlogs and of people waiting days or weeks for their results, and not socially isolating while doing so.
This brings us to two important questions:
How long should it take to get your test results?
What should you do after you've been tested?
How long should it take to get your test results?
According to the World Health Organisation (WHO), tested people should receive their results within 24 to 48 hours after testing.
Namibia follows this guidance and states on the COVID-19 website of the health ministry that tested people should be getting their results within 48 hours of being tested.


However, Namibia has struggled with a backlog in testing which has had an impact on test turnaround times. 
In its situation report of 16 August 2020 of the Namibian COVID-19 outbreak the WHO Namibia country office has underscored the concern with a continued backlog in testing.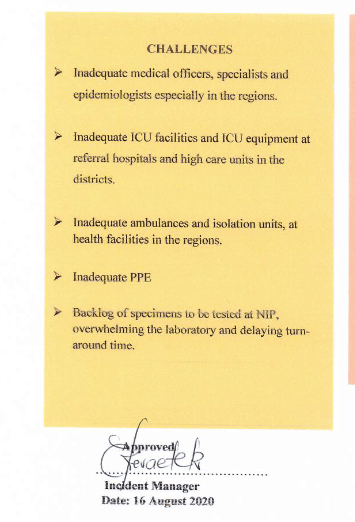 And as recently as 23 August 2020, when reporting a large number of newly uncovered cases, health minister Kalumbi Shangula indicated that some of the results had been outstanding for more than a week, when he stated: 
"Today, a total number of 1 583 results were received from the laboratories. Of these, 316 samples tested positive for COVID-19.

Fifty percent (50%) of all the cases were recorded from the 10 August 2020, while 29% of total cases were recorded during the last week, from the 17 August 2020."

– Dr Kalumbi Shangula, Namibian health minister
The issue of testing turnaround times is a critical one, as, according to the WHO, "timely and accurate" test results are crucial to the effectiveness of the public health response to the COVID-19 pandemic.


What should you do once you've been tested and await your results?
The short answer to this is … you go home and stay home, in self-isolation, until you are contacted and get your results.
Because of the risk of infecting others, people who have been tested for SARS-CoV-2 infection should self-isolate as soon as possible after being tested. 
However, there have been reports of people who have been tested venturing out into public even as their infection status has not been confirmed.
Other than that, follow the advice and …  
… Wear a mask
… Maintain physical distance (at least 2m apart)
… Wash hands frequently.