Image courtesy: Namibia Fact Check / Canva
Does a corpse transmit COVID-19? Where should COVID-19 corpses be buried? Recent events at Walvis Bay have brought these questions into focus as cases surge and deaths mount.
Emotions and controversy flared up at the Namibian coastal town of Walvis Bay in July 2020 as the first COVID-19 deaths were recorded and the first burial was done, giving rise to local disagreement and protest.
It was apparent that at the heart of the situation were a lack of understanding of how COVID-19 is transmitted and poor communication and coordination by local health and political authorities with local communities.
In mid-July it was reported that the first COVID-19 death in Namibia – a 45-year-old Walvis Bay man – was buried on a piece of vacant land earmarked for a new cemetery adjacent to Walvis Bay's Narraville suburb.
Almost immediately the site of the grave became a source of strife within the community as Narraville residents in the vicinity of the burial site said they did not want COVID-19 corpses to be buried so close to their homes and areas where children played.
It was also reported that community members had signed a petition to have the COVID-19 cemetery shifted, with a community representative stating in a report:
"The residents want to know why Narraville was chosen. They also want an explanation as to why that particular piece of land was allocated. They reason that persons who die due to Covid-19 should rather be cremated. This sounds like the best solution."

– Narraville community representative
On Friday, 17 July 2020, Narraville residents blocked the burial of a second COVID-19 death at the same site.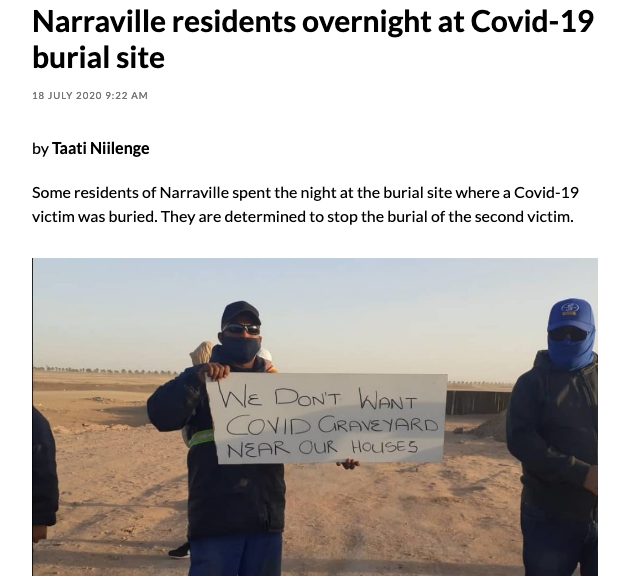 Following this, on 22 July 2020 it was reported that Erongo Region governor, Neville Andre Itope, had announced that all COVID-19 deaths would be buried in existing Walvis Bay cemeteries and that the disputed site next to Narraville would no longer be used.
A few days earlier on Saturday, 18 July 2020, the governor had indicated that authorities were following the guidance of the World Health Organisation (WHO) in matters concerning COVID-19, stating:
"We did things in line with the WHO rules and I understand that it is strange to all of us. We have a burial committee and we were supposed to consult with the community. I accept the blame personally and apologise. This is a first experience for all of us, and I hope we will learn together and help each other to pave the way,"

– Neville Andre Itope
What is the WHO guidance on COVID-19 burials?
The goings-on at Walvis Bay concerned two important questions, specifically:
Do dead or buried bodies transmit COVID-19?
Where should COVID-19 deaths be buried?
As the Erongo Region governor indicated, Namibia is following WHO guidance in COVID-19 related matters.
With regard to the issue of whether COVID-19 corpses transmit the coronavirus, the WHO guidance states:
Except in cases of hemorrhagic fevers (such as Ebola, Marburg) and cholera, dead bodies are generally not infectious. Only the lungs of patients with pandemic influenza, if handled improperly during an autopsy, can be infectious. Otherwise, cadavers do not transmit disease. It is a common myth that persons who have died of a communicable disease should be cremated, but this is not true. Cremation is a matter of cultural choice and available resources;

– WHO
At the time the WHO issued this guidance, on 24 March 2020, there had been no known cases of people contracting the coronavirus from a dead body. However, since then at least one death – of a Thai forensic pathologist – was suspected to have been the result of getting infected by a dead body, although it is unclear how the pathologist contracted COVID-19 since the general guidance for forensic health professionals is to maintain standard safety procedures, including the wearing of personal protective gear at all times when in contact with COVID-19, and other infectious disease, related corpses.
As for burials, the WHO guidance is: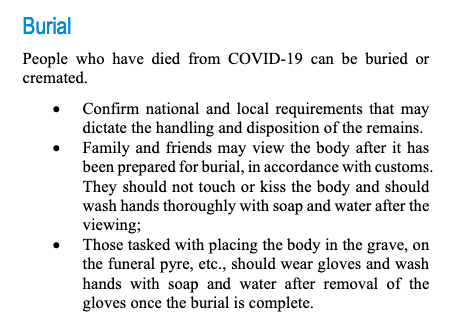 The WHO gives no guidance for the creation and use of specially designated burial sites.
And the WHO cautions that: "Hasty disposal of a dead [body] from COVID-19 should be avoided".
The WHO guidance is quite extensive and Namibians are encouraged to read and use the Infection Prevention and Control for the safe management of a dead body in the context of COVID-19 to broaden their understanding and not to succumb to fear or engage in stigmatizing of the affected due to being ill-informed. Namibians should also use the WHO guidance to hold local health and political authorities accountable for their COVID-19 related actions and practices.