Image: Namibia Fact Check
Media mistakes and conspiracy-dabbling contribute to vaccine skepticism and damages trust in the media and public institutions.
Namibian media continue to make mistakes that can contribute to complicating and confusing the communication around the COVID-19 vaccines, and some have even been complicit in spreading anti-vaccine falsehoods and conspiracy theories.
With public trust in the media in decline, misinforming and misleading reporting by news media can only deepen distrust in the media.
Many of the mistakes and misleading by Namibian news media happen on social media, and following are some examples of such mistakes and misleading taken from just Twitter over March and April 2021.
These examples of mistakes and misinforming content concern the rollout of COVID-19 vaccines, and at a time when, largely due to social media amplified anti-vaccine disinformation, that vaccine resistance and hesitancy seems to be high among Namibians.
Which vaccine?
On 16 March 2021, Namibia received a donation of 100,000 Sinopharm vaccine doses from the Chinese government.
However, despite health authorities making it clear beforehand and at the occasion of the arrival of the Sinopharm vaccine cargo in the country on 16 March, the state-owned broadcaster, the Namibian Broadcasting Corporation (NBC) news coverage still managed to get it wrong … reporting that Namibia was receiving the Sinovac vaccine.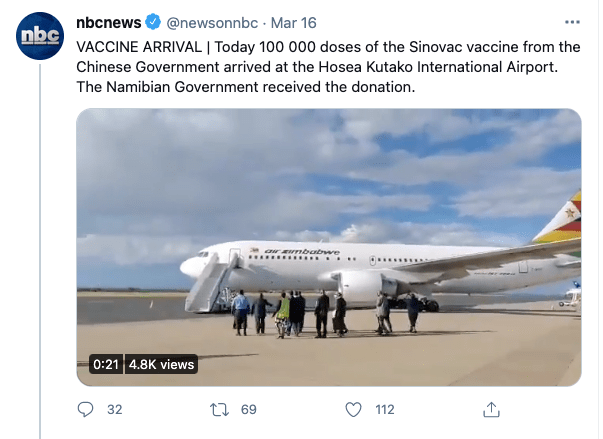 This mistake had still not been corrected by end of April 2021.
What are 'Covid-19 doses' or 'COVID Shield'?
On 19 March 2021, Namibia received a donation of 30,000 Covishield (AstraZeneca) vaccine doses from the Indian government.
However, similar to the NBC a few days earlier, the state-owned daily New Era newspaper reported that Namibian health minister Kalumbi Shangula announced that a cargo of "30,000 Covid-19 doses donated by the Indian government" would be arriving in the country the next day.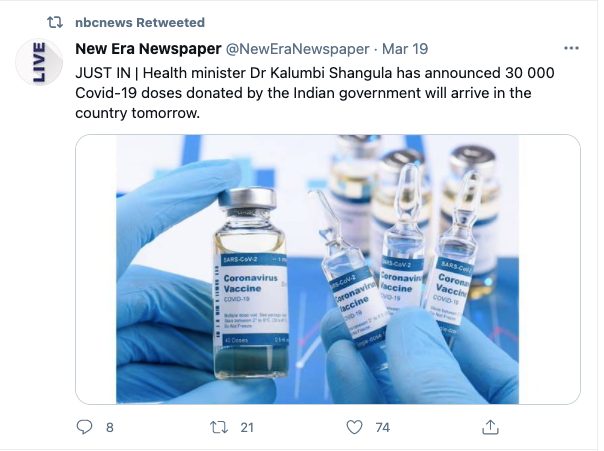 The next day, on 20 March 2021, NBC news reported that Namibia had "received its second batch of 30,000 doses of COVID Shield Covid-19 vaccines, donated by the Indian government".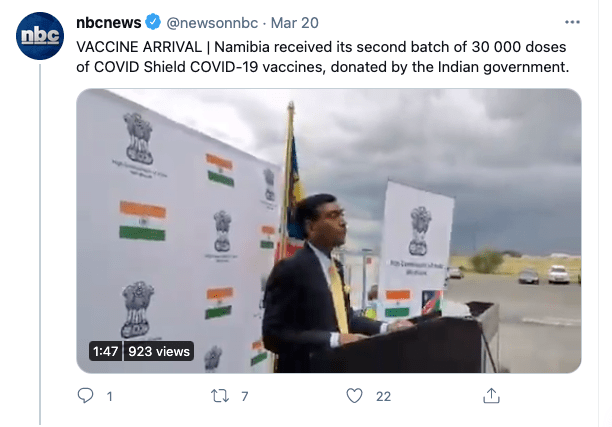 First, the vaccine is called Covishield and, second, it was Namibia's first batch of Covishield vaccines received from the Indian government.
These mistakes are emblematic of the generally sloppy online posting – poorly worded and constructed social media posts – that is regularly witnessed as emanating from Namibian news organisations.
Once again, these mistakes had still not been corrected by end of April 2021.
Which one did he take?
Fast forward over a month later, on 27 April 2021, health minister Shangula went to get vaccinated against COVID-19 in the full media glare. 
The online news portal Windhoek Observer reported that Shangula chose the AstraZeneca vaccine. At the same time, the daily Namibian Sun newspaper reported that Shangula had taken the Sinopharm vaccine.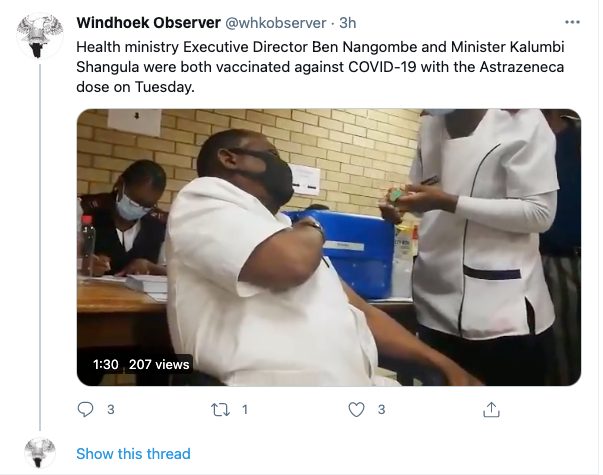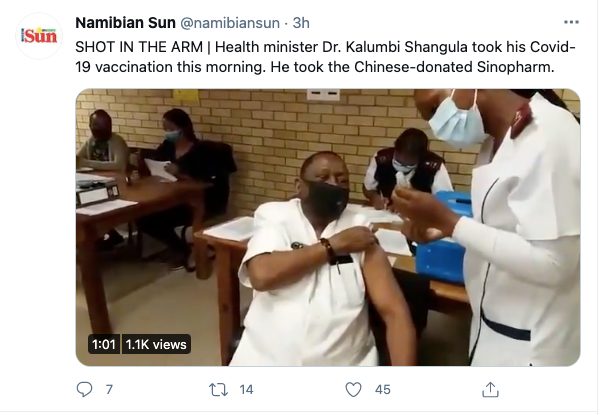 The fact is that health minister Shangula took the AstraZeneca vaccine.
So, it's not just the state-owned media making the mistakes and misinforming.
Conspiracy platforming
Even more disturbing than the mistakes and instances of misinforming is when media organisations actively engage in spreading harmful disinformation and conspiracy theories.
This was the case in late March and early April 2021 with popular, Windhoek-based talk radio station Eagle FM, when Namibia Fact Check was alerted by some listeners to broadcast content that disseminated COVID-19 conspiracy theories.
On 16 March 2021, on a night-time show titled 'COVID-19 Business Impact with Frans', the long debunked COVID-19 related conspiracy theory of the "plandemic" was rehashed in great depth by the host, Frans, and his guest.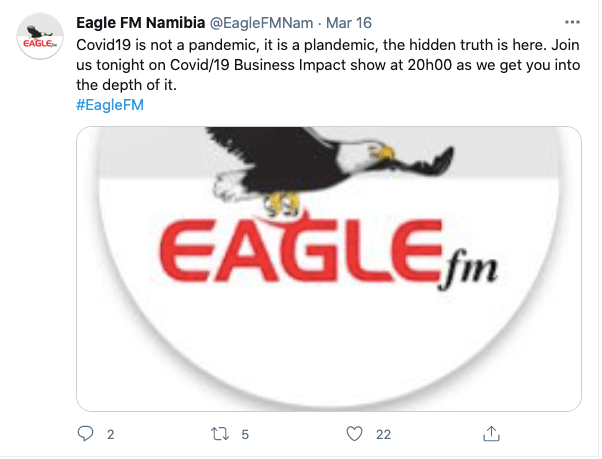 A week later, on 23 March 2021, the same programme once again platformed COVID-19 vaccine falsehoods, in a show titled "The vaccine is an experiment, make a wise choice".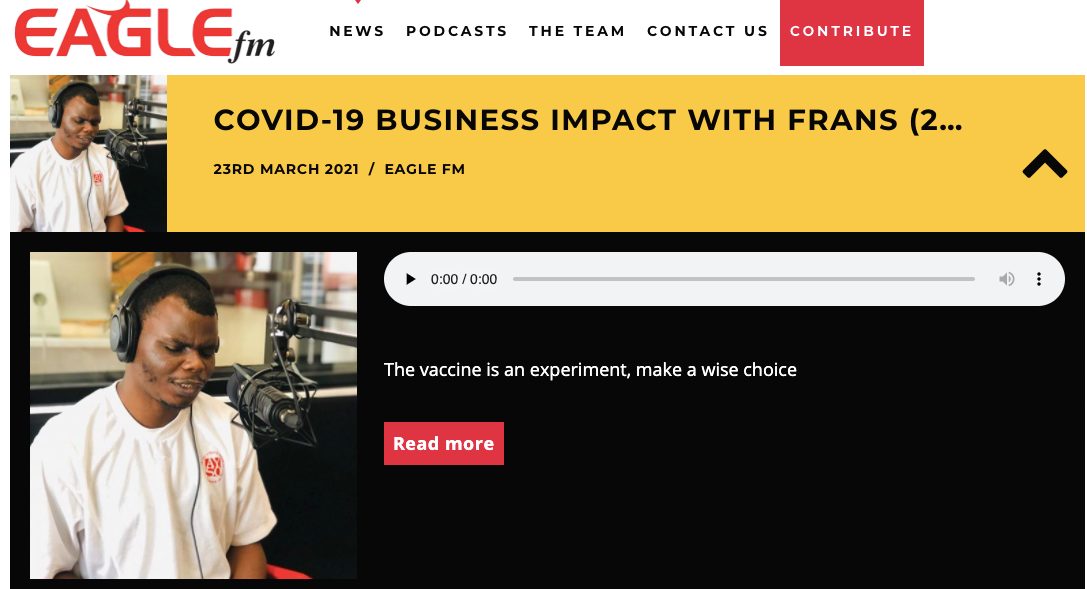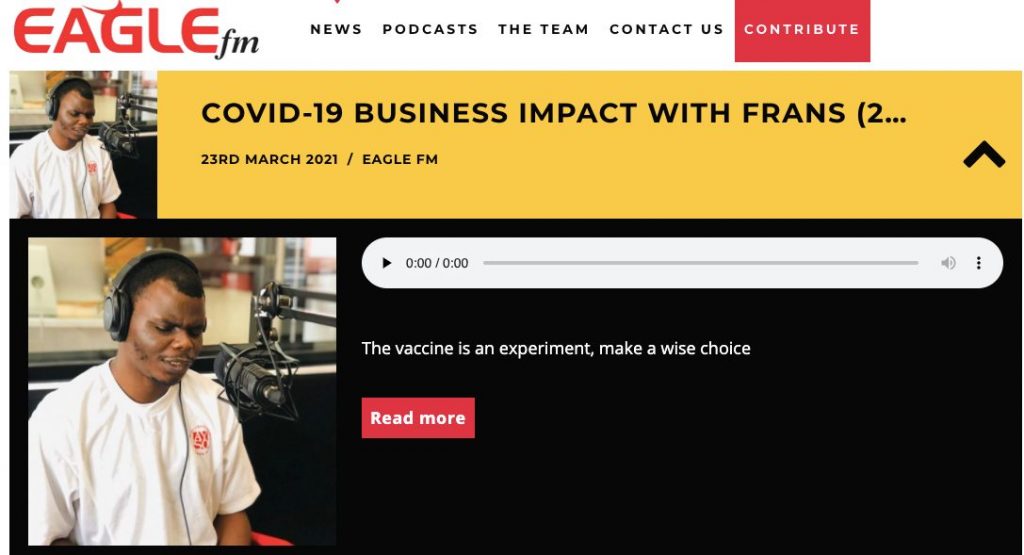 These were not the only Eagle FM programmes brought to Namibia Fact Check's notice, but these examples serve to illustrate how traditional media organisations are spreading and amplifying falsehoods and conspiracy theories that first circulated on social media platforms before being taken down by those platforms.
Namibia Fact Check sent questions related to the broadcast of these conspiracy theories and falsehoods to Eagle FM station management and repeatedly followed up for a response from the station, but despite the station acknowledging receipt of the questions and initially indicating that a response would be provided, by end April 2021 a response had still not been received.