Photo courtesy: Namibian Broadcasting Corporation
The state broadcaster has become a consistent target of the creators of election related 'fake news'.
The state-owned Namibian Broadcasting Corporation (NBC) has since the beginning of November 2019 been drawn into online disinformation battles. Namibia is scheduled to have its National Assembly and presidential elections on 27 November 2019.
The state broadcaster has since the start of the month increasingly seen its logos and online reporting templates being used to spread 'fake news' that mimic actual news reports.
So regular has the mimicking of NBC become that one NBC staffer indicated they encountered an average of one NBC related 'fake news' item online every day in the run-up to the elections.
Examples of such 'fake news' content include the following: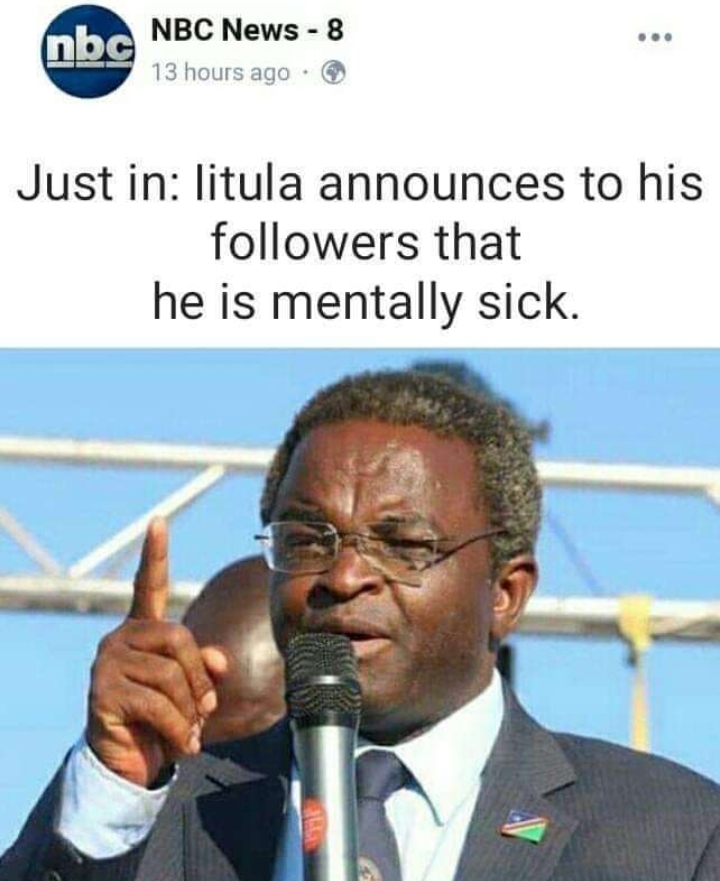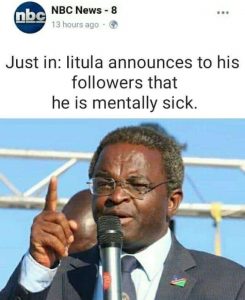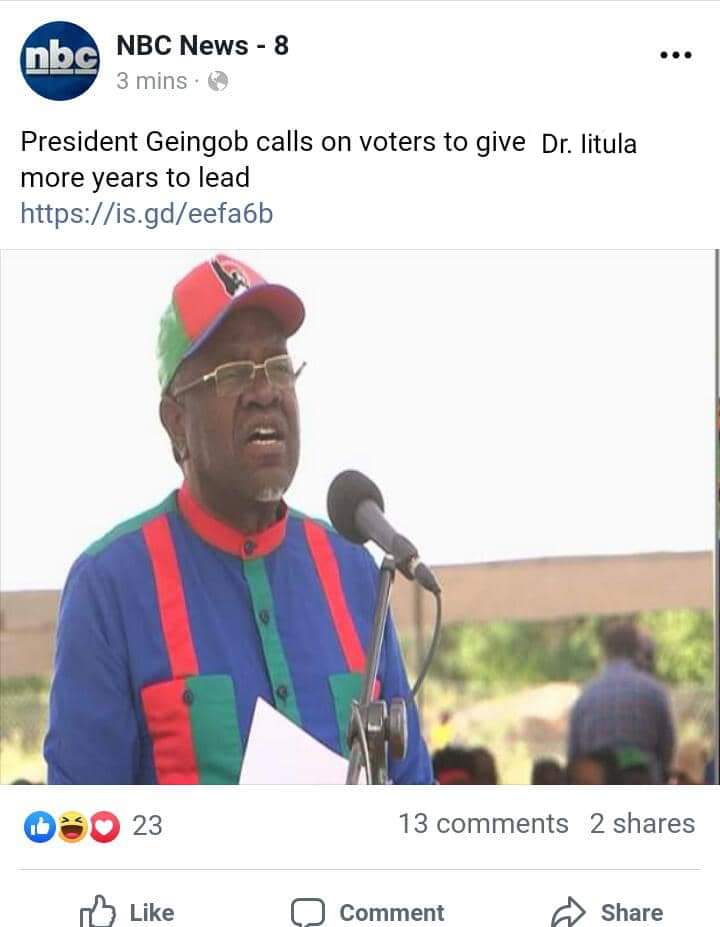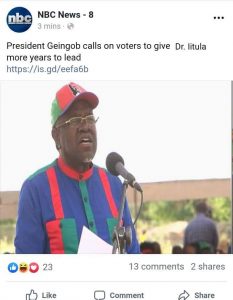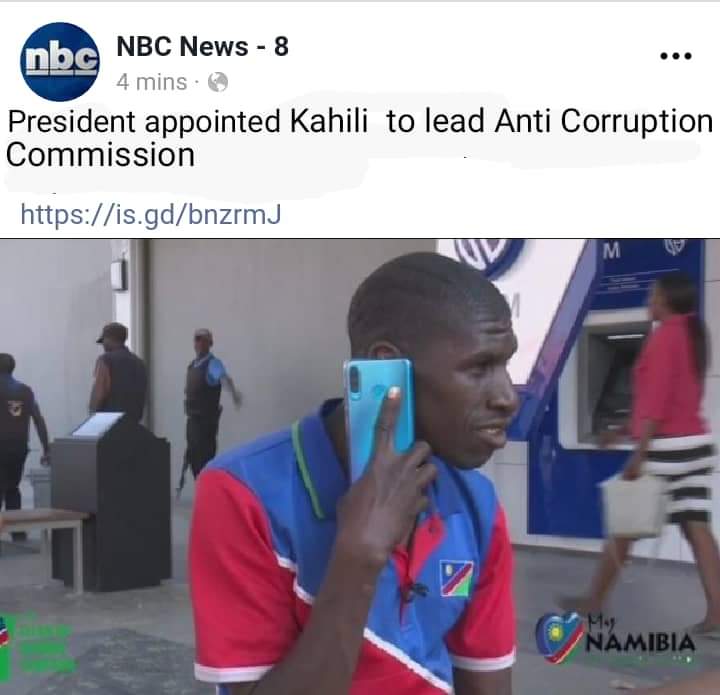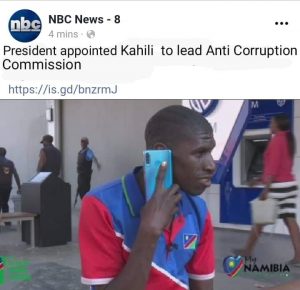 In response to the tide of 'fake news' bearing the NBC name, the broadcaster issued a brief statement on its Twitter and Facebook profiles denouncing the 'fake news' content. The 'NOTE' posted on the evening of Tuesday, 19 November 2019, reads:
As elections draw closer we are inundated with misinformation around presidential candidates and political parties. When our readers see similar content please first check on nbc.na/news or on Facebook on NBC News – 8 or Twitter at @newsonnbc. Please don't pass on screenshots like these if you have not verified if it is true and correct.
However, the NBC is not the only Namibian media organisation that has lately been drawn into online 'fake news' campaigns that pollute the online information environment, especially on social media.
The logo and online reporting template of The Namibian newspaper has also been used relatively frequently to spread 'fake news', especially since the breaking of the Fishrot scandal that has engulfed Namibian politics and fueled much discussion and debate ahead of the elections of late November.
Following are just some examples of The Namibian related 'fake news':
In the first example, the image has been altered to mis-identify Ricardo Gustavo (smiling, left), who has also been implicated in the unfolding political corruption scandal, as Tamson 'Fitty' Hatuikulipi.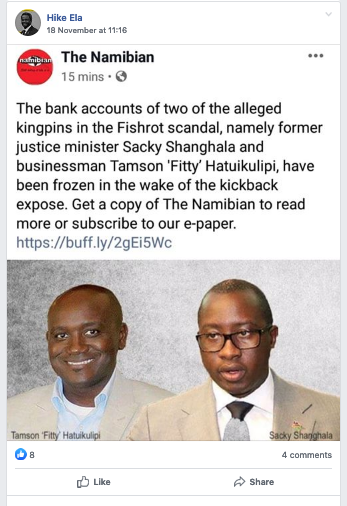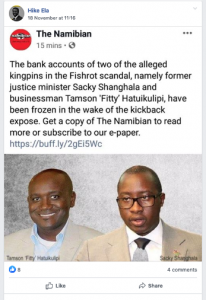 In the second example, former justice minister and corruption accused Sakeus Shanghala is quoted issuing a threat, which has never been reported by the newspaper or any other media.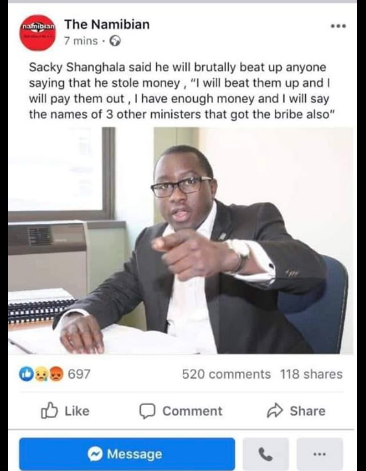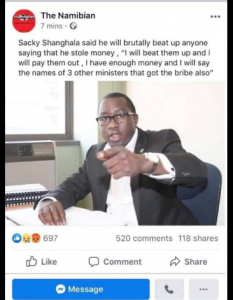 A scroll down the newspaper's Twitter or Facebook feeds will quickly reveal that no such content was posted by it.
It seems clear that the 'fake news' content shown here taps into and is meant to inflame an already sensitive electoral climate. Disinformation is deliberately meant to cause harm by confusing and polluting an information environment.
Namibians are called upon to view news related content encountered on social media and through popular messaging apps very critically, and to verify before re-posting or sharing such content.