Image courtesy: SADC
Most countries already have laws or regulations criminalising disinformation, and some use them to suppress freedom of expression.
On 17 August 2020, Southern African Development Community (SADC) heads of state and government met online for the group's 40th Ordinary Summit of the Heads of State and Government, which is an annual gathering.
At the close of the summit, the group issued a joint statement that included calling on member states to find ways to counter "fake news and the abuse of social media".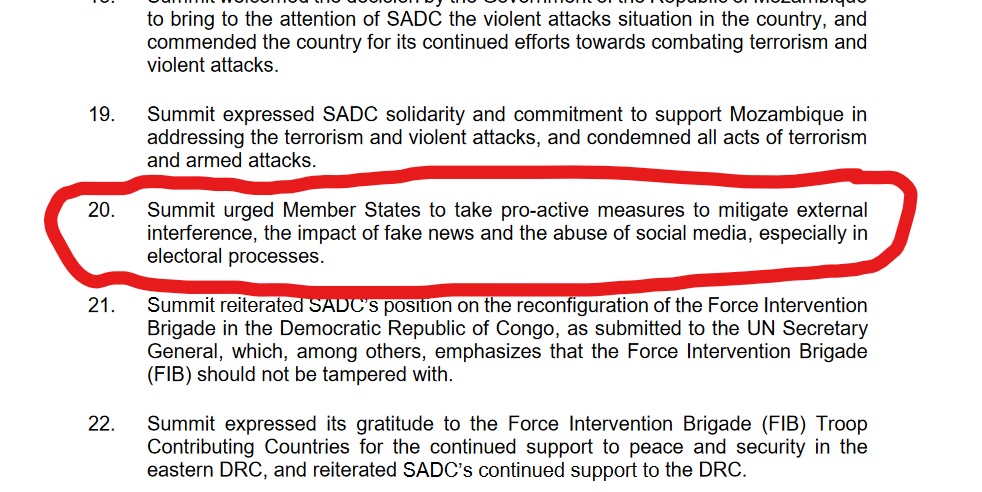 However, the fact is that most SADC member states already have laws or regulations in place that deal with the creation and spread of false information in some way … and many of these laws or regulations have been or are being used to clampdown on freedom of speech and legitimate political dissent in some of these countries.
Following is a list of such laws and regulations across the 16 SADC member states:
Angola
Article 224 of the Penal Code
Botswana
Penal Code, the Communications Regulatory Authority Act, 2012, the Emergency Powers (COVID-19) Regulations, 2020, and the Cybercrime and Computer Related Crimes Act, 2018.
Comores
It is unclear if Comores has laws criminalising the dissemination of false information.
Democratic Republic of the Congo
Penal Code, Articles 76 and 77 of the Press Freedom Law,
Lesotho
Lesotho has no laws criminalising disinformation.
Madagascar
Penal Code, Law 2016-029 Establishing the Code of Media Communication.
Malawi
Penal Code, Electronic Transactions and Cyber Security Act, 2016, and Public Security Regulations.
Mozambique
Mauritius
Criminal Code and the Information and Communication Technologies Act 2001.
Namibia
Proclamation No. 9 of 28 March of 2020
Seychelles
South Africa
Regulations Issued in Terms of Section 27(2) of the Disaster Management Act, 2002, and the Cybercrimes and Cybersecurity Bill, 2017.
Swaziland
Coronavirus (COVID-19) Regulations, 2020; and the Suppression of Terrorism Act.
Tanzania
Cybercrimes Act, 2015, the Electronic and Postal Communications Act, 2010 and the Media Services Act No.12 of 2016, and the Electronic and Postal Communications (Online Content) Regulations, S.I. No. 133 of 2018.
Zambia
Zambia has no laws criminalising disinformation.
Zimbabwe
Cybercrime and Cybersecurity Bill, 2017, the Criminal Law (Codification and Reform) Act, and Statutory Instrument (SI) 83 of 2020, the Public Health (COVID-19 Prevention, Containment and Treatment) (National Lockdown) Order, 2020.
This information was compiled from the online Disinformation Tracker tool created by Global Partners Digital, the Collaboration on International ICT Policy for East and Southern Africa (CIPESA) and other civil society groups.
The Disinformation Tracker "seeks to support human rights defenders in Sub-Saharan Africa by tracking and analysing all laws, policies and other government actions on disinformation across Sub-Saharan Africa".
According to the Disinformation Tracker, the laws and regulations listed in this article raise "concerns from a human rights perspective".