Image Courtesy: NUST / Facebook
July 2022 saw another government entity collect a vanity prize and the presidency celebrated over a dubious ranking.
Fake degrees, vanity prizes and dodgy indices continue to be lauded and flaunted by politicians and government officials the world over, and Namibia is no exception.
In July 2022 both the Namibia University of Science and Technology (NUST) and the Namibian presidency patted themselves on the back over a vanity award and a dodgy ranking, respectively.
The ESQR vanity award
First up was the Namibia University of Science and Technology (NUST) vice-chancellor, Dr Erold Naomab, receiving a "Quality Achievement Award by the European Society for Quality Research (ESQR) on behalf of NUST" at a ceremony in Barcelona, Spain, in early July 2022.
For an institution that supposedly has a lot of smart, highly qualified people on staff being duped into accepting a well-known vanity prize, surely cannot look good.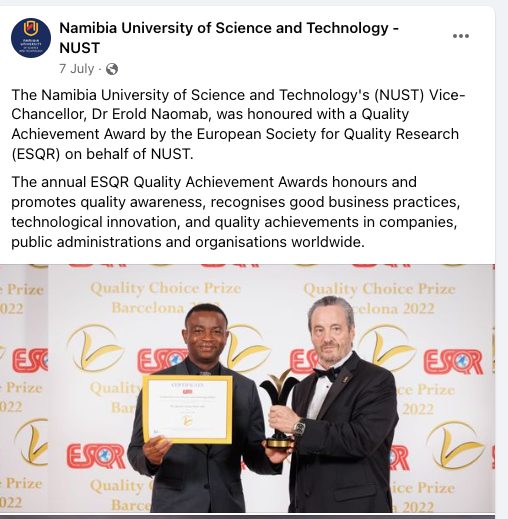 However, NUST was not the only or even the first Namibian state-owned entity to receive the ESQR vanity award. That honour goes to the Namibia Investment Promotion and Development Board, which received the same ESQR 'award' at a ceremony in Dubai, United Arab Emirates (UAE), in December 2021.
Namibian news media even reported the 'achievement' as if it was a real 'award'. See a report by the state-owned New Era here and one by The Namibian here.
The European Society for Quality Research (ESQR) is apparently a Swiss-based entity that appears to exist primarily to hand out an excellence and a quality award, both of which are considered vanity prizes.
A Wikipedia article about vanity prizes defines them as prizes "in which the recipient purchases the award and/or marketing services to give the false appearance of a legitimate honour". The ESQR is listed in the article as one of the known "trophy-for-sale organizations".
ESQR was identified as a suspicious entity in an investigation published by the Organised Crime and Corruption Reporting Project (OCCRP), a multinational investigative journalism initiative, in October 2014 as one of the Europe-based organisations targeting eastern European and developing country officials and companies for 'prizes' and 'awards' for a fee.
In a February 2019 investigation published in South African investigative journalism magazine Noseweek the playbook of entities such as ESQR (which is also mentioned in the article) is described as "particularly targeting businessmen and academics in developing countries – "where the idea that money buys you credentials is still there" – with claims that they had been nominated for an award".
The African Vibes presidential ranking
In mid-July 2022 it emerged that President Hage Geingob had been ranked the third best president in Africa by an online magazine based in the US called African Vibes in a 27 March 2022 article.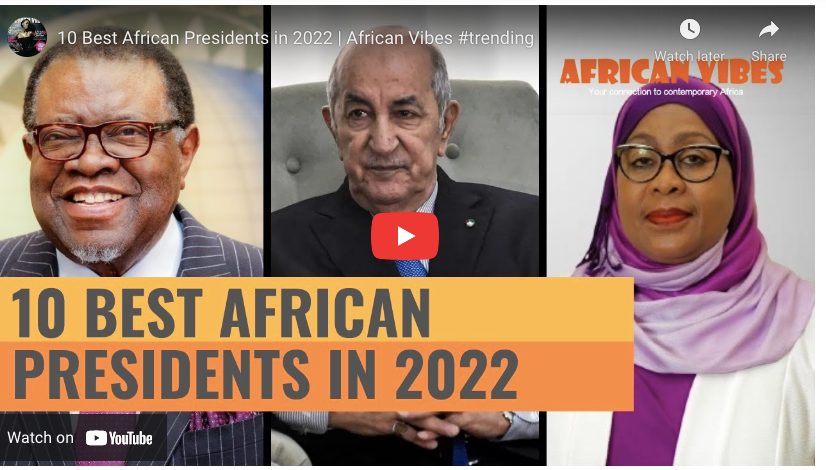 On its website African Vibes describes itself as follows:
"African Vibes is a one stop platform that helps Africans in the diaspora get the information they need to participate in Africa's growth and development. We provide quality content and tools about Africa business opportunities, real estate, culture, impact initiatives and more."
The website does not come across as a serious journalistic or news website, but rather as a click-bait website, with headlines such as "10 Best African Countries To Invest In And Why" and "Ultimate Guide To Investing In Real Estate In Kenya".
Adding to the click-bait site feel is the fact that the writer of the article is not clearly identified and a grainy, out-of-focus photo is published with the article of someone who might or might not be the writer of the piece.
The credibility of the article and the ranking is further undermined by the fact that Egyptian prime minister, Mostafa Kemal Madbouly, is listed at number 8 among the "10 Best African Presidents in 2022", and is described in an accompanying photo caption as "President Madbouly has exceeded expectations".
The president of Egypt is ​​Abdel Fattah el-Sisi.
Across all its social media profiles, African Vibes' content or posts attract very little engagement, with many attracting no engagement at all.
Despite all these tell-tale signs of African Vibes not being a credible or prestigious source for African presidential rankings, Namibian state-owned media went all out in covering president Geingob's third place ranking on the African Vibes presidential index as if it were.
Here's the Namibia Press Agency (NAMPA) fawning take on Geingob's ranking by African Vibes. And here's the Namibian Broadcasting Corporation's (NBC) glowing report on the Geingob ranking.