Image: Namibia Fact Check / WhatsApp
A fake post claiming the Electoral Commission of Namibia is recruiting online is circulating in WhatsApp and other social media groups
The scam post appears to have been circulating online since the end of June 2023 and came to Namibia Fact Check's attention on the morning of Monday, 3 July 2023.
The latest post follows on another jobs scam that Namibia Fact Check debunked in early June 2023 that also claimed to be promoting Electoral Commission of Namibia (ECN) recruitment via a WhatsApp link.
The post of 3 July reads:
"Welcome to the ELECTORAL COMMISSION OF NAMIBIA recruitment portal apply now and get avaliable job positions at the NEC .

All Citizens are eligible to Apply.

APPLY NOW"

(Link not posted)
As is evident the post, as well as the webpage it links to, has all the signs of a being a fake or scam post:
Capitalised words in the middle of the sentence;
Misspellings, for example referring to the ECN as the "NEC";
A web link which does not click through to the ECN website;
On the fake recruitment webpage there are a number of grammatical errors and jumbled sentences.
All of these are signs that this is not an official post or webpage.
The post mimicking an ECN recruitment promotion contains a link, as shown in the image below: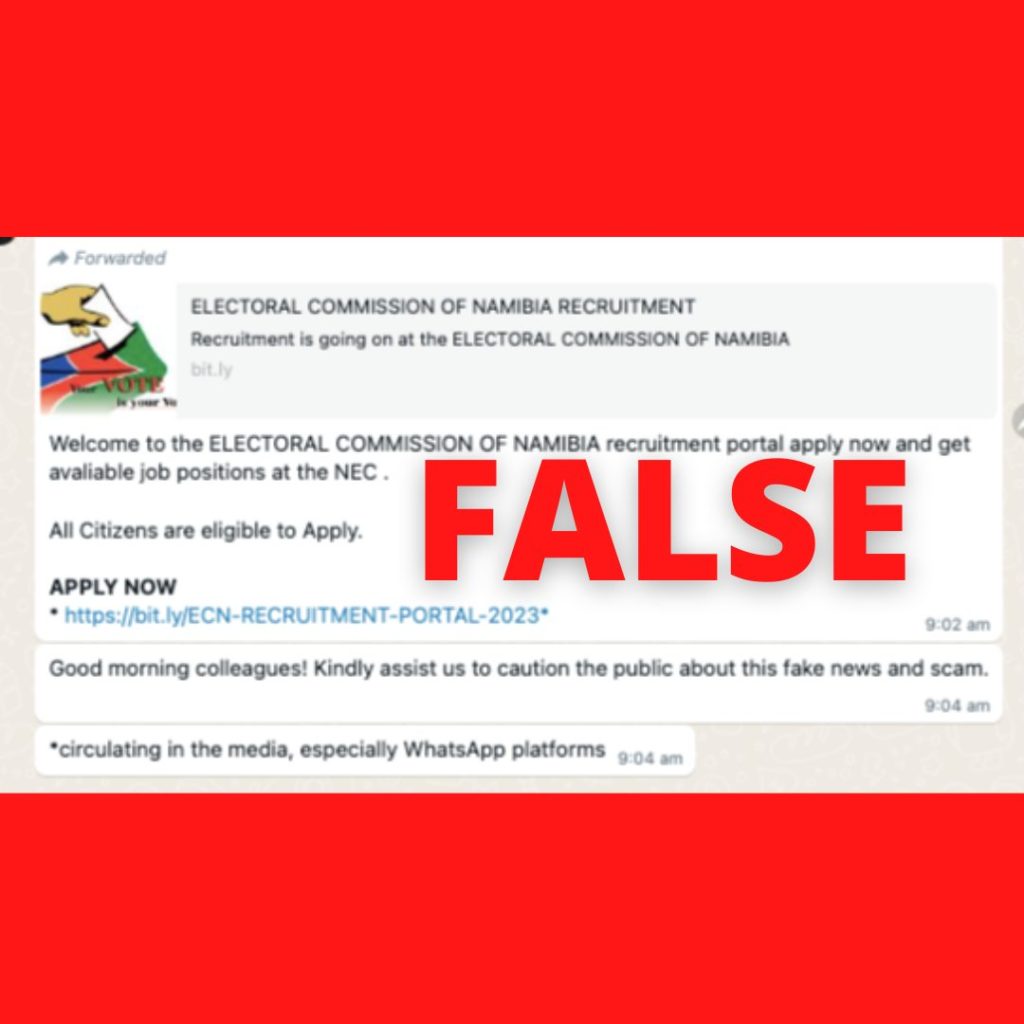 The link clicks through to a webpage that has some ECN electoral graphics on it, but is poorly designed and clearly not linked to the official ECN website. Once you click the link, it goes to a different web link.
On the webpage, interested individuals are invited to enter their names, email address and personal mobile number. This suggests that this webpage could be part of an identity theft scam.
To be clear, on 3 July 2023, according to its website, the ECN had "No vacancies at the moment".
Namibian WhatsApp and social media users are cautioned not to click on the link or enter their personal details in the form provided on the fake application page. And WhatsApp users are urged not to forward the post and thereby potentially harming others who desperately believe the post and provide their personal details to the scammers.