This one is definitely for the journalists trying to maintain some semblance of professional sanity in an ever changing media environment in which fact checking is increasingly coming to represent the very best of the profession
Global non-profit media assistance and fact check enabling initiative First Draft recently released a new manual aimed at journalists looking to sharpen up their skills in the realm of verification – in other words, fact checking – and upgrade their reporting.
It is a book that intrinsically acknowledges that there are serious shortcomings in a lot of contemporary journalistic practices (everywhere) and that these practices have substantially contributed to pervasive information disorder.
And it clearly sets out what it's about, stating in the introduction: "This book is not designed to give you all the answers. What it will do, however, is provide you with questions you can ask as you navigate the tricky ethical terrain that comes with reporting in a world of information disorder."
The manual walks the questing 'responsible' journalist through various topics, such as: Covering extremism; how to cover conspiracy theories; how to craft responsible headlines, etc. It delves into these topics with appropriate examples and simple explanations, making for a highly accessible and rich learning format, that links very nicely with other of First Draft's tools.
It concludes that: "Thoughtful consideration is necessary at every stage of the process, in selecting what stories to cover, deciding what words and images to use, determining an appropriate method of linking, choosing a headline, and interacting with readers on social media."
And it takes the journalist back to what the whole purpose of the profession is:
"News is that part of communication that keeps us informed of the changing events, issues, and characters in the world outside. Though it may be interesting or even entertaining, the foremost value of news is as a utility to empower the informed. The purpose of journalism is thus to provide citizens with the information they need to make the best possible decisions about their lives, their communities, their societies, and their governments."
In the end it also provides a framework to guide the journalist towards more ethical practice and approaches: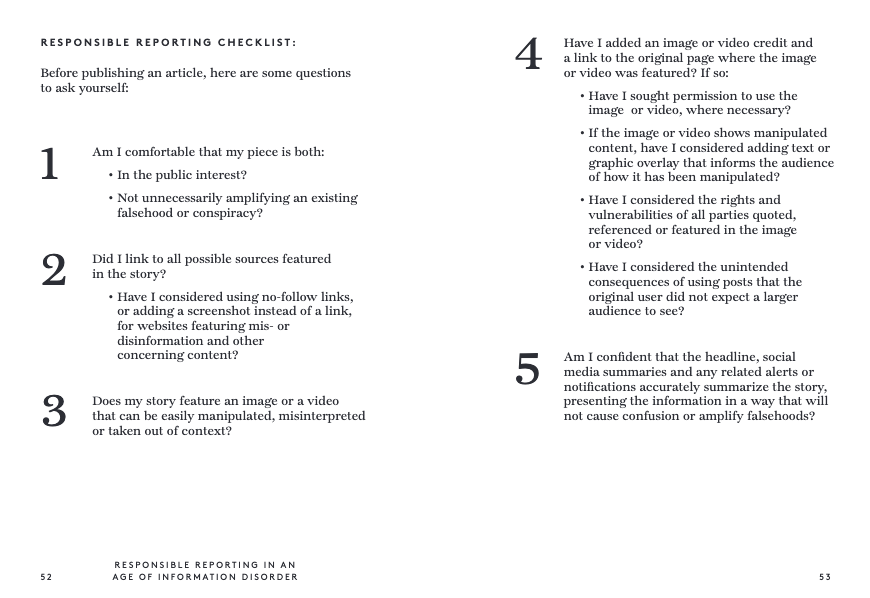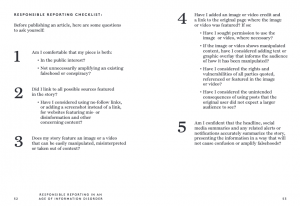 This is a tool worth exploring and using to improve.