Photo by Brian McGowan on Unsplash
Viral hoaxes linking 5G technology or infrastructure to the global COVID-19 pandemic have for weeks been swirling on Namibian social media, causing confusion and confrontation.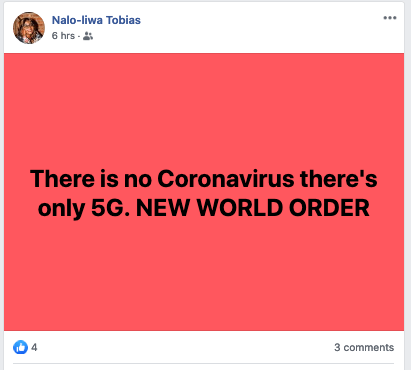 The hoaxes or conspiracy theories take one of two lines, either:
5G technology or infrastructure causes or enhances the spread of COVID-19 disease; or
The COVID-19 pandemic is a convenient cover to rollout toxic 5G infrastructure.
These hoaxes have traveled the world and back, and have been numerously debunked by fact checkers and health or technical experts the world over. But that hasn't stopped them.
The latest conspiracy theory scare around 5G technology – linking such technology to COVID-19 – has been around since at least February 2020, as COVID-19 was spreading globally. 5G hoaxes have been a regular feature on right-wing American conspiracy theory websites and have now gone global, leading to damage to telecommunications infrastructure in some parts of the world. On Namibian social media such hoaxes have now been spread by academics, prominent business people, and ordinary social media users alike.
On Facebook such conspiracies have been pushed through public groups, such as the following:

As for this first hoax-line – that 5G technology causes or enhances the spread of COVID-19 – the position of health experts is that there's no evidence to back such a claim. In fact, this is the position of the World Health Organisation (WHO):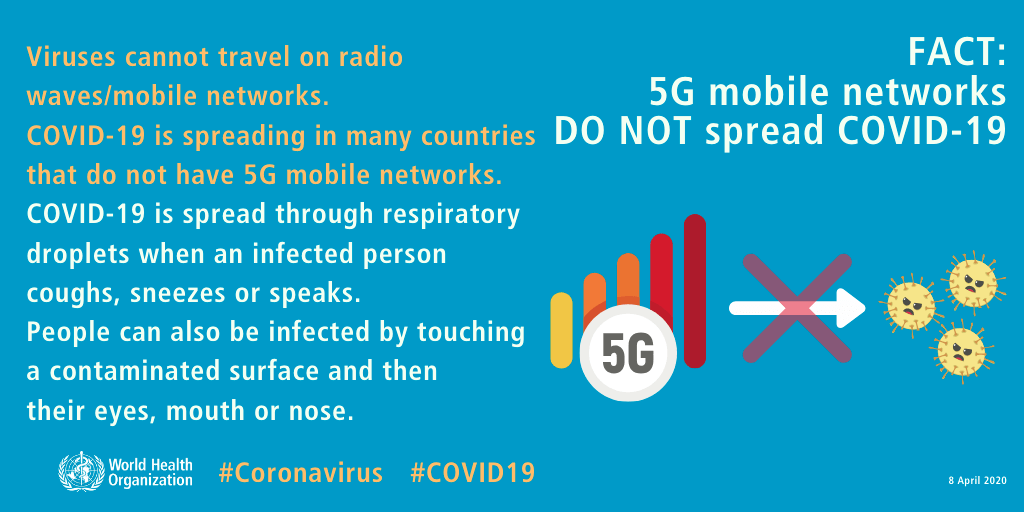 The second hoax-line – that 5G technology is toxic – has been around longer than the COVID-19 pandemic, but the latest spin is that the coronavirus pandemic is being used as cover to rollout such technology and infrastructure.
The ferocity of such hoaxes and conspiracy theories that brewed on Namibian social media in early April 2020 necessitated Namibia's largest mobile service provider, Mobile Telecommunications (MTC) Ltd, to weigh in with the following response:
On 8 April 2020, the Communications Regulatory Authority of Namibia (CRAN) also issued a statement in which it quoted Jochen Traut, acting Chief Executive Officer, saying:
… "to date, CRAN is not aware of any proven correlation between 5G and the COVID-19 pandemic. As an independent and responsible regulator, the nature and operations of CRAN will at all times be aimed at ensuring the public health and safety of all consumers of ICT products and services."

– CRAN
Following this, on 13 April 2020, Telecom Namibia also issued a statement on virally circulating 5G rumours and hoaxes, stating:
"There are various studies on the effect of radio waves on human physiology. 5G will operate at a wide range of frequencies that are currently and have been in use for many years and the power levels radiated by 5G transmitter and handsets are comparable to preceding technologies that are currently in use and are observed to be nowhere near to affect the immune system."

– Telecom Namibia
With regard to the health implications or toxicity of 5G technology, this is the World Health Organisation (WHO) position:
"To date, and after much research performed, no adverse health effect has been causally linked with exposure to wireless technologies. Health-related conclusions are drawn from studies performed across the entire radio spectrum but, so far, only a few studies have been carried out at the frequencies to be used by 5G. Tissue heating is the main mechanism of interaction between radio frequency fields and the human body. Radio frequency exposure levels from current technologies result in negligible temperature rise in the human body. As the frequency increases, there is less penetration into the body tissues and absorption of the energy becomes more confined to the surface of the body (skin and eye). Provided that the overall exposure remains below international guidelines, no consequences for public health are anticipated."

– WHO
For a more technical explanation of what 5G technology is and what risks might be associated with the rollout of the technology, check out this explainer article from the Institute of Electrical and Electronics Engineers (IEEE), which "is the world's largest technical professional organization dedicated to advancing technology for the benefit of humanity". The IEEE article states:
"Most of the concerns about 5G's supposed negative impact on health stem from its cell towers having such a different architecture than the ones supporting today's 3G and 4G cellular networks, Waterhouse says. Those towers are kilometers apart and placed on tall, raised structures that are typically located away from populated areas. Because a 5G base station can be smaller than a backpack, it can be placed just about anywhere, such as on top of light poles, streetlights, and rooftops. That means the stations will be located near houses, apartment buildings, schools, stores, parks, and farms."

– IEEE
The article goes on to state about the claims of risk related to the rollout of 5G technology:
"A relatively small number of studies have claimed to find some evidence of risk, but those studies have never been reproduced—and reproducibility is a key factor in good science."

– IEEE
For a less technical explanation – and a good debunk of the myths – of 5G technology's perceived health implications in the context of COVID-19, see this AFP Fact Check article.
Namibia Fact Check has previously highlighted a debunked 5G/COVID-19 conspiracy theory, on 17 March 2020, that appeared on the Facebook page of a Namibian media practitioner, pushing the conspiracy theory that COVID-19 was created or used to mask the toxicity of 5G infrastructure, along with other dubious claims, including anti-vaxxer conspiracies. The video opened with the following claim: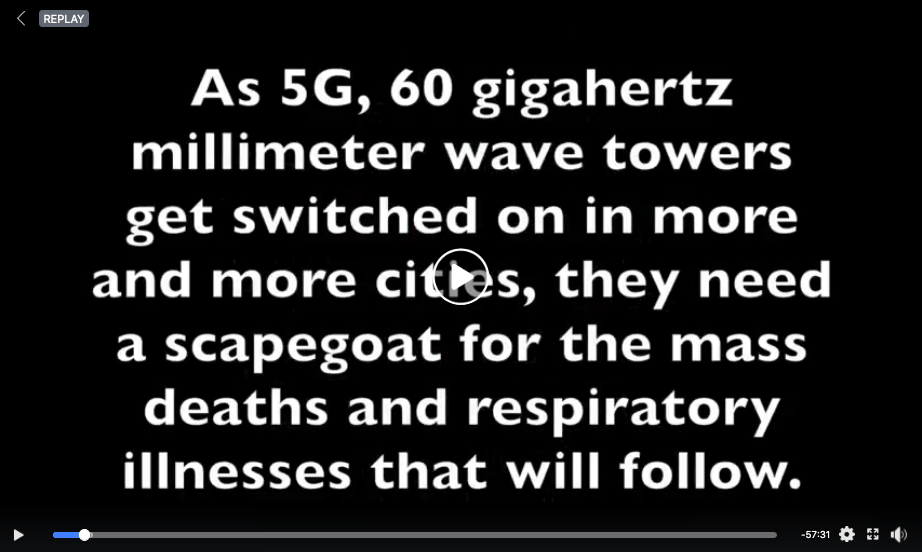 For a global roundup of 5G/COVID-19 fact checks, see the database – of over 30 and counting 5G-coronavirus debunks – of the International Fact Checking Network's (IFCN) CoronaVirusFacts Alliance.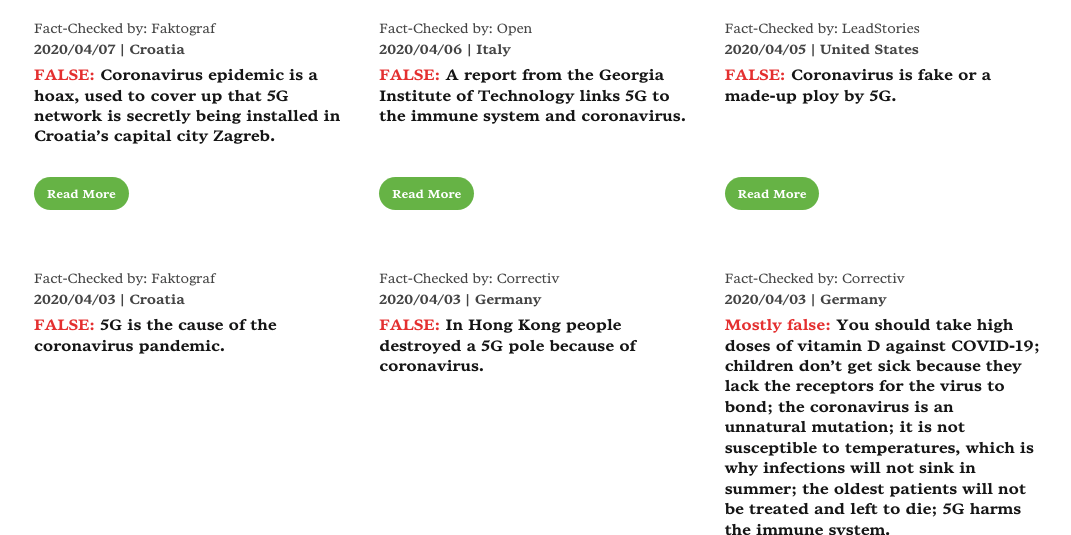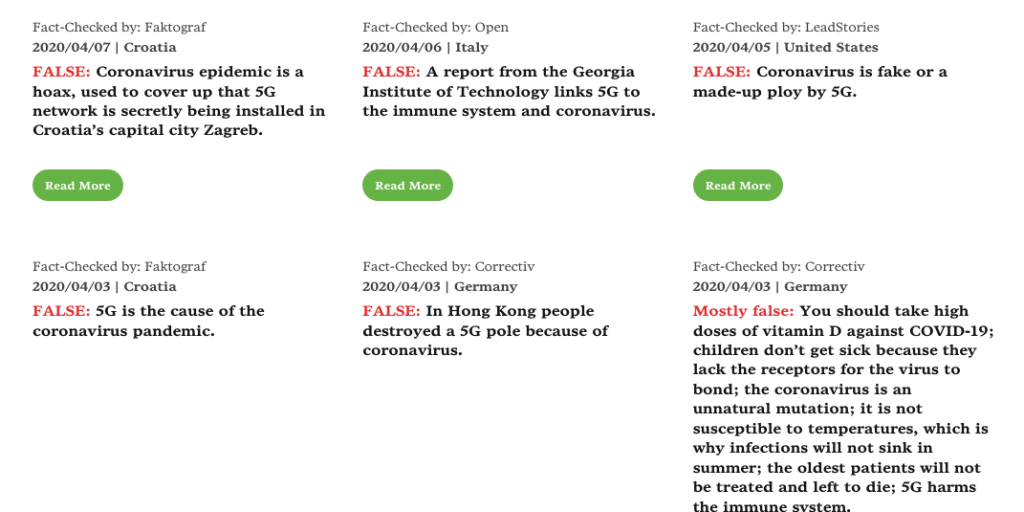 Against this backdrop, Namibia Fact Check would like to caution:
The 5G related COVID-19 hoaxes and conspiracy theories on Namibian social media, especially on WhatsApp, have demonstrated how damaging such disinformation is in the health communication context, leading to confusion and distrust of credible information and sources. These hoaxes have in a way shown and underscored how worryingly susceptible Namibian social media users are to foreign-produced and promoted disinformation.
UPDATED on 22 April 2020: To include statements by the Communications Regulatory Authority of Namibia (CRAN) and Telecom Namibia.