Image courtesy: Twitter
The US tech billionaire and philanthropist has become a lightning-rod for all sorts of conspiracies and hoaxes in the rising tide of disinformation that has accompanied the COVID-19 pandemic.
Bill Gates has a patent for the novel coronavirus. Bill Gates wants to depopulate the world. Bill Gates wants to plant chips in people. Bill Gates wants to kill Africans with a vaccine. Bill Gates is the antichrist. Bill Gates is … whatever absurd conspiracy theory can be pinned on him in the disinfodemic maelstrom that the COVID-19 pandemic has become.
In another instance of how American political polarisation has polluted the global COVID-19 information landscape, the baseless attacks on Bill Gates that have gone viral over recent months started off among American right-wing and pro-Trump (as in hardcore supporters of US president Donald Trump) conspiracy theorists and anti-vaccination activists. According to a 17 April 2020 analysis article in the New York Times:
"The first mention of a baseless conspiracy connecting him to the outbreak was on Jan. 21, according to the Times analysis. That was when a YouTube personality linked to QAnon suggested on Twitter that Mr. Gates had foreknowledge of the pandemic. The tweet was based on a coronavirus-related patent from the Pirbright Institute, a British group that received funding from the Gates Foundation."

– New York Times
About that "coronavirus-related patent", the authors state:
"The patent was not for Covid-19; it was connected to a potential vaccine for a different coronavirus that affects poultry. But two days later, the conspiracy website Infowars inaccurately said the patent was for "the deadly virus."

– New York Times
The authors of the article had been tracking disinformation and conspiracy theories involving the Microsoft co-founder since then and their data found that:
"From February to April, conspiracy theories involving Mr. Gates and the virus were mentioned 1.2 million times on social media and television broadcasts, according to Zignal Labs."

– New York Times
And the article states that:
"By April, false Gates conspiracy theories peaked at 18,000 mentions a day, Zignal Labs said."

– New York Times
It has to be pointed out that all this was happening despite social media platforms, such as Twitter, having supposedly increased their policing of false content related to COVID-19 over the same period. The disinformation has remained undiluted. For instance, search for 'Bill Gates 5G' or 'bill gates vaccine africa' or 'bill gates vaccine' and witness the tens of thousands of tweets of disinformation connected to Bill Gates on these topics. The same holds true for Facebook and Youtube, as there's a lot of cross posting of this type of content on these platforms, with much of it being 'shared' onto WhatsApp as well.
Closer to home, the disinformation around Bill Gates really exploded on African social media (at least across southern Africa) following the publication of a since retracted article by South African media outlet News24 on 4 April 2020 in which it was falsely reported that Bill Gates wanted to test a COVID-19 vaccine in Africa.
In a fact check article of 7 April 2020, on how they got the story wrong, News24 stated:
"An analysis of social media activity in South Africa and abroad shows the denunciation of Gates – who never mentioned testing any vaccines anywhere – started with several false Facebook posts in France, before it was imported to our shores, helped along by several influential Twitter accounts. On Saturday, a News24 story, which has since been retracted, gave the false narrative impetus."

– News24
News24 has since apologised for the wrong reporting to the Bill and Melinda Gates Foundation.
Namibian outrage
Namibians too have been lapping up and participating in this sordid flood of Bill Gates blaming that has swept the social media world. And it's all sorts of people engaged in the spread of this type of content, as Namibian lawyers, academics, media personalities and prominent business people have been posting and sharing such false content on Namibian social media.
Following are examples of the types of Bill Gates related disinformation that has been doing the rounds on Namibian social media: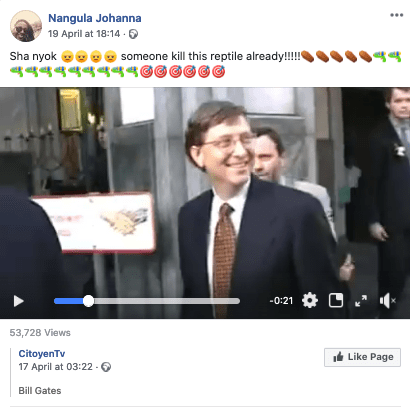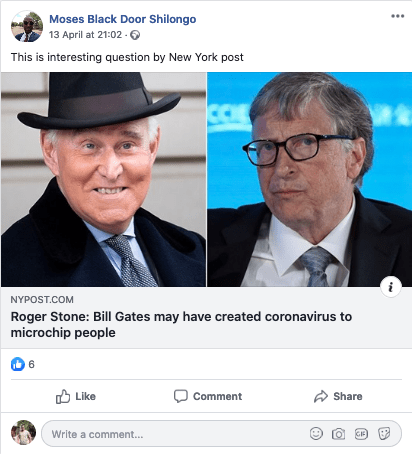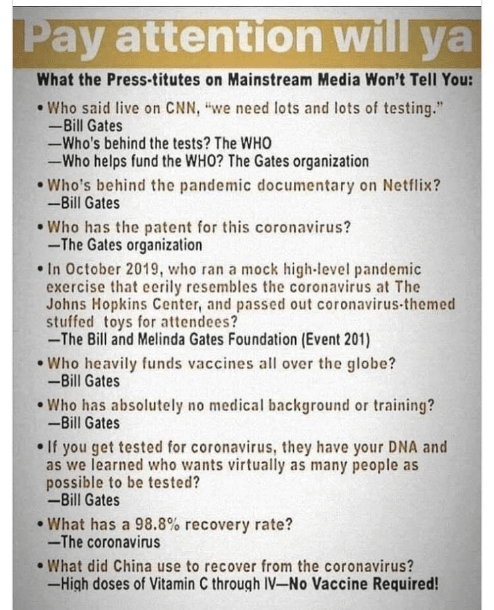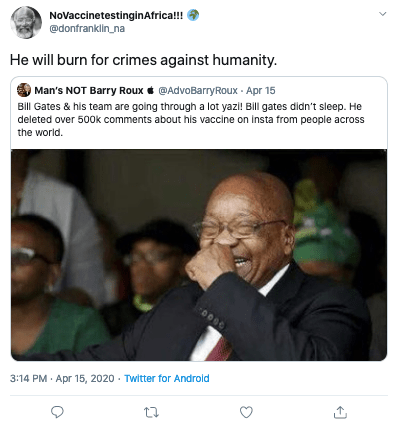 Fact checkers respond
As the COVID-19 disinfodemic has escalated since January 2020, so too has the response of fact checkers around the world been ramped up.
Since January 2020, the CoronaVirusFacts/DatosCoronaVirus Alliance of the International Fact Checking Network (IFCN) has been debunking COVID-19 related hoaxes, conspiracy theories and myths.
With regard to Bill Gates related conspiracy theories and hoaxes, as of 27 April 2020, the CoronaVirusFacts/DatosCoronaVirus Alliance database of fact checks contains over 30 debunks of a myriad of conspiracy theories and hoaxes linked to Gates.
However, the tide of disinformation is not stopping and is simply overwhelming.
Thus, Namibian social media users are cautioned not to be swept up in the disinfodemic storm that has foreign origins and is meant to cast doubt and suspicion on, and create opposition to, the actions of individuals, such as Bill Gates, and authorities, such as the World Health Organisation (WHO), that are seeking answers in an effort to resolve the global health crisis that is COVID-19.