Photo by Martin Sanchez on Unsplash
The situation around the spread of the novel coronavirus (COVID-19) that broke out in China in December 2019 continues to evolve. This is Namibia Fact Check's weekly update of the pandemic.
COVID-19 has now gone completely global. As of 1 pm on 23 March 2020, this was the global infection situation, according to the Johns Hopkins University & Medicine Coronavirus Resource Centre:

And with the COVID-19 pandemic surging around the world, one of the fears that emerged over the last week was that young people weren't taking the health threat as seriously as they should. This prompted World Health Organisation (WHO) director-general Tedros Adhanom Ghebreyesus to issue a caution on 20 March 2020:
"Every day, we are learning more about this virus and the disease it causes. One of the things we are learning is that although older people are the hardest hit, younger people are not spared. Data from many countries clearly show that people under 50 make up a significant proportion of patients requiring hospitalization. Today, I have a message for young people: you are not invincible. This virus could put you in hospital for weeks, or even kill you. Even if you don't get sick, the choices you make about where you go could be the difference between life and death for someone else. I'm grateful that so many young people are spreading the word and not the virus."

– WHO
Also on 20 March 2020, in an attempt to quell the 'infodemic' tide that has accompanied the pandemic, the WHO launched a WhatsApp broadcast channel, in collaboration with Facebook and WhatsApp, with the aim being:
"From government leaders to health workers and family and friends, this messaging service will provide the latest news and information on coronavirus including details on symptoms and how people can protect themselves and others. It also provides the latest situation reports and numbers in real time to help government decision-makers protect the health of their populations."

– WHO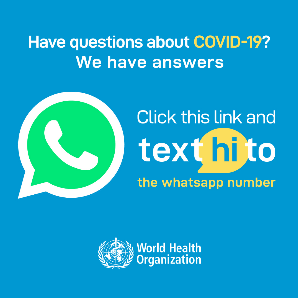 In terms of Namibia-related COVID-19 news:
Namibia still had only three (3) confirmed infections, all imported, by 23 March 2020;
By midday on 23 March 2020, South Africa had recorded 402 confirmed infections;
On 22 March 2020, the Botswana government announced that president Mokgweetsi Masisi had gone into self-quarantine following attendance of Namibia's independence day commemoration and the swearing in of Namibian president Hage Geingob on 21 March 2020;
On 21 March 2020, a KLM flight from the Netherlands landed in Namibia and all 35 passengers on board were immediately placed in quarantine by Namibian health authorities;
On 17 March 2020, Namibian president Hage Geingob declared a six-month state of emergency, following which all gatherings of more than 50 people have been banned and travel in and out of the country has been severely restricted, among various other measures;
According to former finance minister Calle Schlettwein, the Namibian economy, which has been in a long decline and slump, will be battered further by the COVID-19 outbreak and the lockdown measures introduced by the Namibian government.
For up-to-date information on COVID-19, Namibians are urged to monitor the COVID-19 webpages of the World Health Organisation (WHO), as well as those of other credible media sources.
Please do not spread false information or hoaxes. If you are unsure about the information received via social media, then try to verify it first before forwarding or sharing. It you cannot verify such information, DO NOT SHARE IT.
Namibia Fact Check will continue providing weekly updates on the COVID-19 pandemic.