Photo by Fusion Medical Animation on Unsplash
Interest in the virus variants that cause COVID-19 has increased as the variants have become more disturbingly prominent of late.
The fast spread of the highly contagious Delta variant (previously the 'Indian variant') globally has renewed concerns around vaccine effectiveness as large parts of the world are in a 'third wave' of infection.
While concerns are justified, there's no reason for anyone to wander the earth in ignorance and confusion. For, luckily, the World Health Organization (WHO) is helping to keep the globe abreast of SARS-CoV-2 virus variants.  
So, here's some information from the global health body you might want to keep close about the virus variants that have emerged since late 2020.
Variants labelled
On 31 May 2021, the WHO announced that it had officially labelled the key SARS-CoV-2 variants to "easy-to-pronounce and non-stigmatising labels".
Explaining the naming process, the WHO stated:
"These labels were chosen after wide consultation and a review of many potential naming systems. WHO convened an expert group of partners from around the world to do so, including experts who are part of existing naming systems, nomenclature and virus taxonomic experts, researchers and national authorities."
Following the advice of the expert group, the WHO has labelled the variants according to Greek alphabet letters, i.e. Alpha, Beta, etc.
Knowing the variants
The WHO has divided the SARS-CoV-2 variants into Variants of Concern and Variants of Interest.
According to the WHO, a Variant of Concern demonstrates the following:
"Increase in transmissibility or detrimental change in COVID-19 epidemiology; OR
Increase in virulence or change in clinical disease presentation; OR
Decrease in effectiveness of public health and social measures or available diagnostics, vaccines, therapeutics."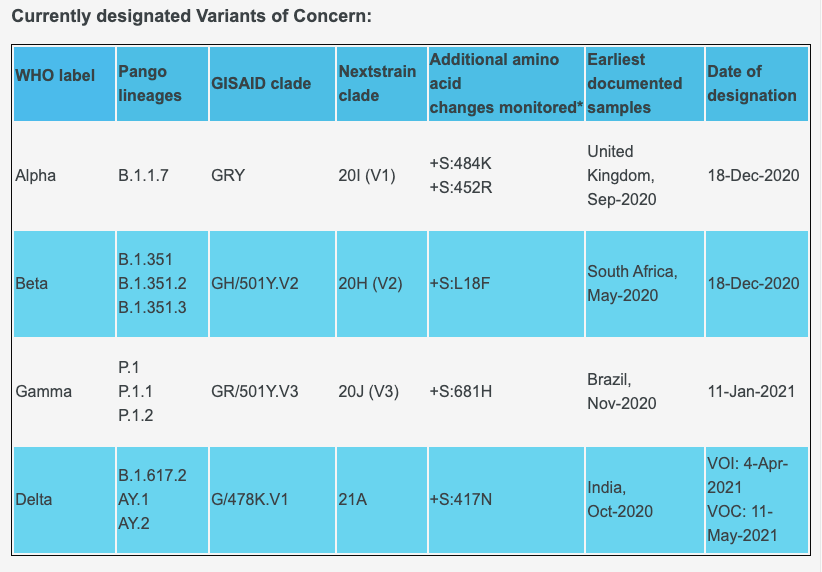 A Variant of Interest is a SARS-CoV-2 variant:
"with genetic changes that are predicted or known to affect virus characteristics such as transmissibility, disease severity, immune escape, diagnostic or therapeutic escape; AND 
Identified to cause significant community transmission or multiple COVID-19 clusters, in multiple countries with increasing relative prevalence alongside increasing number of cases over time, or other apparent epidemiological impacts to suggest an emerging risk to global public health."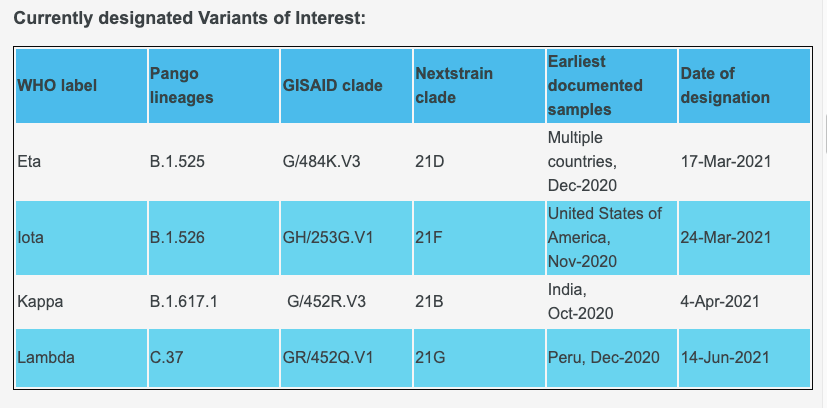 For a lot more information and insights on the SARS-CoV-2 variants, view the article 'Tracking SARS-CoV-2 variants' on the World Health Organization COVID-19 webpages (that's where we got all this information from).