Photo by Ivan Diaz on Unsplash
With the Delta variant spreading and vaccinations increasing the term is becoming widely used and misunderstood.
During the COVID-19 daily update for 18 July 2021, health minister Dr Kalumbi Shangula reported that 12 fully vaccinated people had tested positive for the SARS-CoV-2 virus in the previous 24 hours.
For 19 July 2021 a further five infections of fully vaccinated people were reported by the health minister.
These cases are what are called 'breakthrough' cases or infections.
What does that mean?
Basically, a 'breakthrough' infection is when someone contracts the virus even though they are fully vaccinated. This means, someone who has had their one dose of a single-dose vaccine or both doses of a two-dose vaccine and is infected or tests positive for COVID-19 14 days or more after receiving their final dose.
In this regard the World Health Organization (WHO) says: 
"Vaccines can stop most people from getting sick with COVID-19, but not everyone.

Even after someone takes all of the recommended doses and waits a few weeks for immunity to build up, there is still a chance that they can get infected. Vaccines do not provide full (100%) protection, so 'breakthrough infections' – where people get the virus, despite having been fully vaccinated – will occur."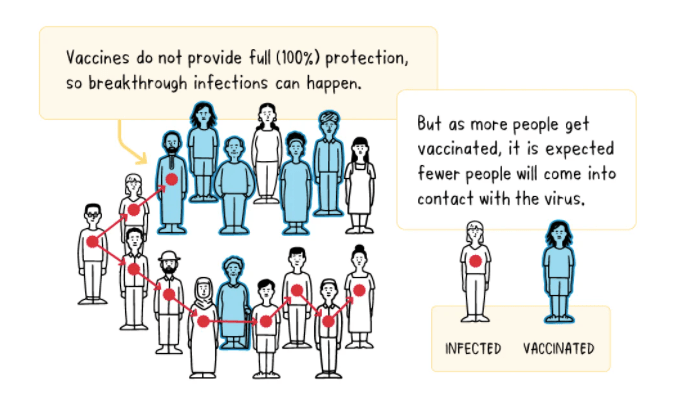 The US's Centers for Disease Control and Prevention (CDC) says: 
"Vaccine breakthrough cases are expected. 

Like with other vaccines, vaccine breakthrough cases will occur, even though the vaccines are working as expected. Asymptomatic infections among vaccinated people will also occur."
How common are vaccine 'breakthrough' cases?
'Breakthrough' cases are rare.
The US CDC states:
"Vaccine breakthrough cases occur in only a small percentage of vaccinated people. To date, no unexpected patterns have been identified in the case demographics or vaccine characteristics among people with reported vaccine breakthrough infections."
Does a 'breakthrough' infection mean someone gets sick?
It does happen.
The WHO says:
"If vaccinated people do get sick, they are likely to have milder symptoms, in general. It is very rare for someone vaccinated to experience severe illness or die."
The US CDC says:
"There is some evidence that vaccination may make illness less severe for those who are vaccinated and still get sick."
So, how effective are vaccines really?
The WHO says:
"COVID-19 vaccines are crucial tools in the pandemic response and protect against severe disease and death. Vaccines provide at least some protection from infection and transmission, but not as much as the protection they provide against serious illness and death. More evidence is needed to determine exactly how well they stop infection and transmission."
The US CDC says:
"COVID-19 vaccines are effective and are a critical tool to bring the pandemic under control. However, no vaccines are 100% effective at preventing illness in vaccinated people."
And against variants such as Delta?
The WHO says:
"Based on what we know so far, vaccines are proving effective against existing variants, especially at preventing severe disease, hospitalization and death. However, some variants are having a slight impact on the ability of vaccines to guard against mild disease and infection.

Vaccines are likely staying effective against variants because of the broad immune response they cause, which means that virus changes or mutations are unlikely to make vaccines completely ineffective."
The US CDC says:
"Current data suggest that COVID-19 vaccines authorized for use in the United States offer protection against most SARS-CoV-2 variants currently circulating in the United States. However, variants will cause some vaccine breakthrough cases."
To get an idea of how well vaccines work against the Delta variant, check out this healthline article on the topic.