Photo by Adam Wilson on Unsplash
Namibians will be drinking freely again under stage 3 of the COVID-19 state of emergency. Here are some health facts to remember.
As from 12pm on Tuesday, 2 June 2020, Namibians will be freely buying and consuming alcohol again under the Guidelines for Stage 3 of the State of Emergency.
This followed over two months of severe prohibitions on the sale and consumption of alcohol, since 28 March 2020, when the country went under lockdown until 4 May 2020, followed by stage 2 opening up that lasted until midnight on 1 June 2020.
While many have been looking forward to this, Namibians still need to be careful about alcohol consumption in the time of COVID-19.
Following is some really interesting and comprehensive guidance from the World Health Organisation (WHO):
Alcohol has effects, both short-term and long-term, on almost every single organ of your body. Overall, the evidence suggests that there is no "safe limit" – in fact, the risk of damage to your health increases with each drink of alcohol consumed.
Alcohol use, especially heavy use, weakens the immune system and thus reduces the ability to cope with infectious diseases.
Alcohol, even in very small quantities, is known to cause certain types of cancer.
Alcohol alters your thoughts, judgement, decision-making and behaviour.
Alcohol, even in small amounts, is a risk to the unborn child at any time during pregnancy.
Alcohol increases the risk, frequency and severity of perpetration of interpersonal violence such as intimate partner violence, sexual violence, youth violence, elder abuse, and violence against children.
Alcohol increases the risk of death and injury from road traffic injuries, drowning and falls.
Heavy use of alcohol increases the risk of acute respiratory distress syndrome (ARDS), one of the most severe complications of COVID-19.
And here's something on alcohol-related myths and COVID-19:
But just in case it hasn't sunk in yet, remember: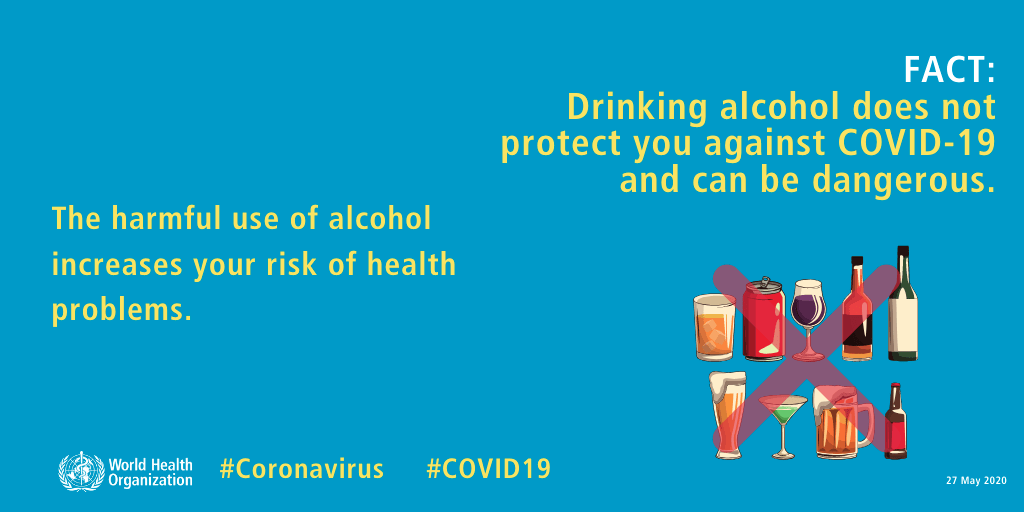 And in the era of COVID-19 this is perhaps the best piece of advice around:
Avoid alcohol altogether so that you do not undermine your own immune system and health and do not risk the health of others.

– WHO
Stay Sober. Stay Safe. STAY HEALTHY!