Image courtesy: CNBCAfrica on Youtube
The video keeps on resurfacing in times laden with controversy and to spice up political intrigue and conspiracy.
An almost decade old video of a televised discussion of the impact of a massive 'oil discovery' off the Namibian coast has now become part of post-election disinformation in the wake of the 27 November 2019 presidential and National Assembly elections.
In its latest iteration, the video – of international business broadcast network CNBC's Africa Business News – was recently used to cast suspicion over the financial backing of the election campaign of Panduleni Itula, who stood as an independent candidate in the 27 November presidential election.
Here's an example: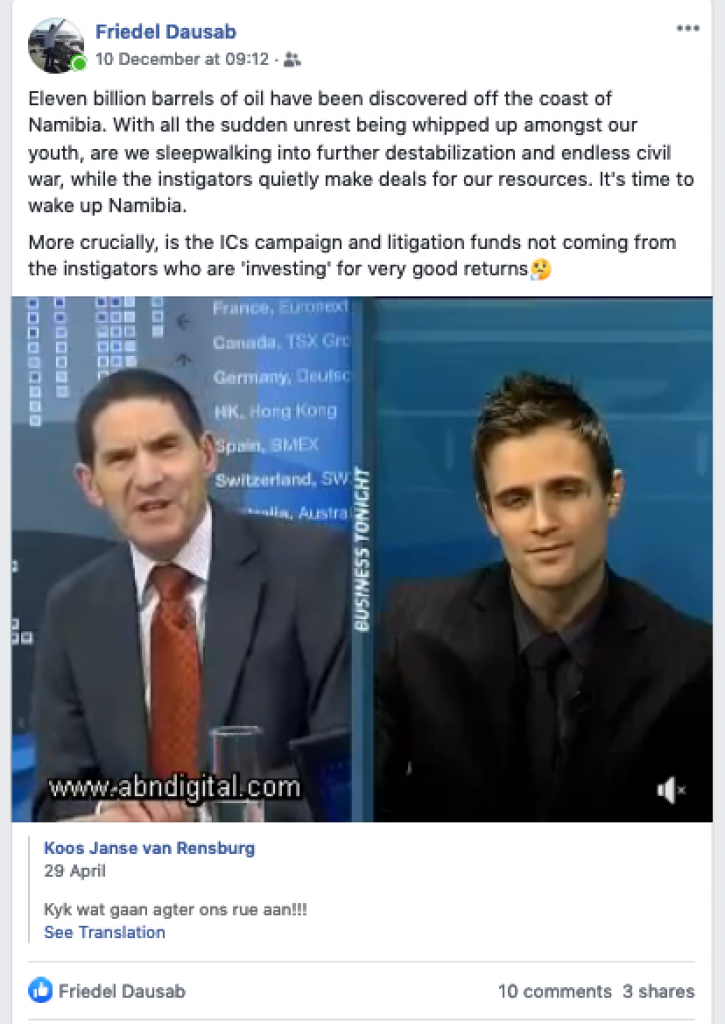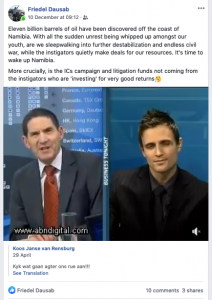 The video clip of the CNBCAfrica broadcast emanates from mid-2011 when it was reported that then mines minister Isak Katali had announced in the National Assembly, on 6 July 2011, that 11 billion barrels of oil had been discovered off the southern coast of Namibia.
The story went international and was widely reported at the time. A post on the website of Eco Oil & Gas, which is also an oil and gas prospector off the Namibian coastline, at the time reported Katali's announcement as follows:
"Katali said that Enigma Oil & Gas, owned by London-listed Chariot Oil & Gas, has identified 11 prospects along the southern coast.

"The largest of these, the Nimrod Prospect in 350 meters (1,150 feet) depth, and most likely reserves in the event of success are estimated to be greater than four billion barrels," he told parliament.

"Enigma expects to find oil rather than gas," Katali said, adding that first production could begin as early as 2015."
The original video clip was uploaded onto the CNBCAfrica Youtube page on 8 July 2011 with the title 'Oil Reserve off the Coast of Namibia' (below), and it's safe to assume the same was broadcast on television earlier or at the same time that day.
The text accompanying the video states:
ABN's Bronwyn Nielsen speaks with Ross Bruton from Frost and Sullivan discussing the story of a massive 11 billion barrel of oil reserve found off the coast of our Northern neighbour Namibia.
It should be noted that almost a decade after Katali's announcement nothing has come of the supposed discovery of billions of barrels of oil off the Namibian coast.