Original photo courtesy: Jemima Beukes / Namibian Sun
The issue of the independent presidential candidate's self-stated affiliation to and support for the ruling party refuses to go away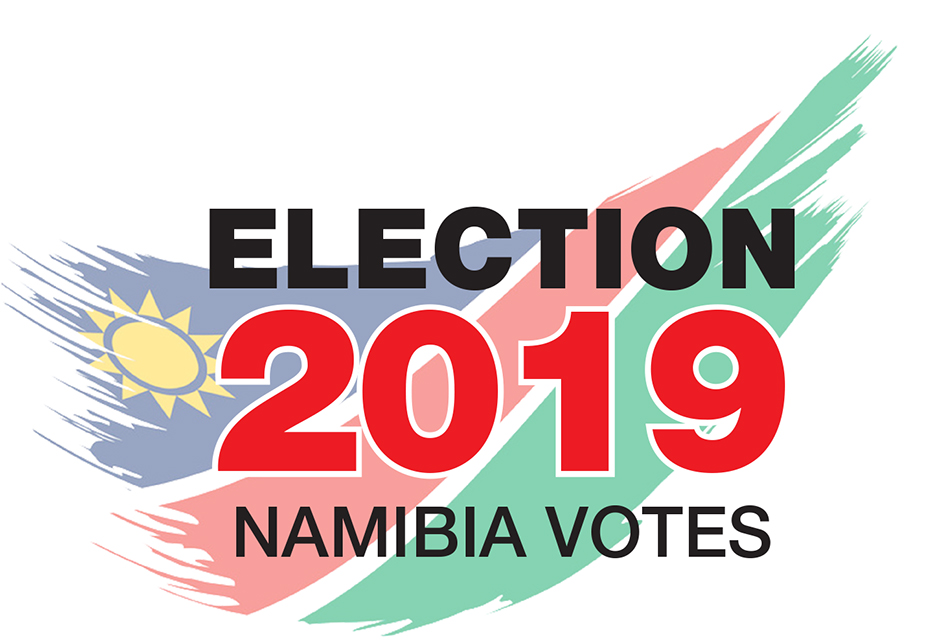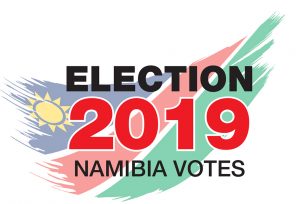 At a presidential election campaign launch event in late October 2019, the independent presidential candidate, Panduleni Itula,  is reported to have proclaimed, while brandishing his Swapo Party membership card, that he was  a "lifelong revolutionary activist and member of Swapo".
At previous and subsequent events he had made the same utterances with regard to his relationship with the ruling party.
The issue of Itula's stated support and affiliation to the ruling party has continued being a bone of contention as some have been questioning how he could have been allowed to register as an independent candidate when he appeared to be an unapologetic, card-carrying member of the ruling party.
This was one of the issues of discussion and debate at an Electoral Commission of Namibia (ECN) engagement workshop in Windhoek with civil society organisations on Thursday, 24 October 2019, during which some CSO representatives questioned the legality of allowing Itula to stand as an independent presidential candidate while he was clearly going around declaring support and seemingly indirectly campaigning for a party contesting the National Assembly elections. The ECN position was clear that legally there was nothing preventing Itula from standing as an independent presidential candidate.
Namibia Fact Check recently sought more clarity on the issue from ECN chief electoral officer Theo Mujoro, and received the following response:
"According to the application he represented to the Commission, Mr. Itula is going to contest the Presidential election as an independent candidate.  Mr. Itula has also provided the Commission with a designed logo to be used on the EVM ballot paper.  The Electoral Act does not require a person to make a declaration as to his/her political affiliation. If a person complies with the requirement in sections 72 and 73 regarding independent candidates, and the Commission is satisfied that they comply, they can participate as an independent candidate, and will appear as such on the ballot paper.

"In my personal opinion, he would not have gone through the trouble of obtaining more than 7000 names and signatures of registered voters who support his nomination, and pay N$ 10 000 just to turn around and throw his weight behind another political party who already submitted the name of their Presidential candidate."
However, to some, that is exactly what Itula appears to have done. Namibia Fact Check has also previously questioned the nature of Itula's independent candidacy, albeit before it had been official.
Against this backdrop, as indicated by Mujoro, the Electoral Act of 2014, in section 72, simply states the following: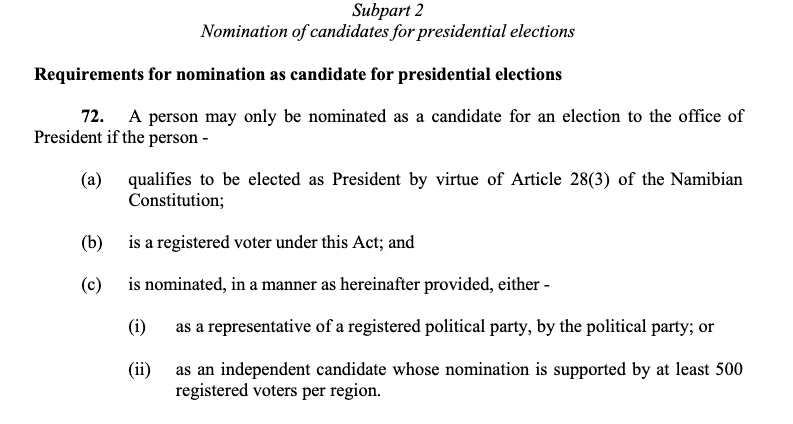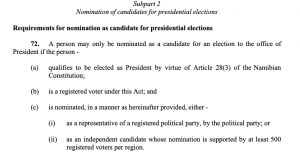 Section 73 of the law simply and clearly lays out the processes to be followed when submitting an application to contest presidential elections, whether as a political party representative or an independent, and does not include any provisions that would allow for the testing of an prospective independent candidate's independence.
Aside from these concerns, the issue of how a successful independent presidential candidate would govern if elected has also become a point of discussion. In a blog post the Institute for Public Policy Research (IPPR) stated of the challenges in the Namibian context:
"If an independent candidate were to win the presidential elections then it would trigger a number of awkward governance issues as the independent president would have to appoint a Cabinet made up of party representatives. They would have to make some kind of agreement with each other – which respected the priorities and promises of both the victorious independent candidate and the dominant political party in the National Assembly election. If they were unable to establish a working relationship it would cause a governance crisis which could lead to an impasse and legislative paralysis that would be hard to solve."
In light of all this, it would appear that questions around the Itula independent candidacy will probably refuse to subside ahead of the fast approaching 27 November Presidential and National Assembly elections.
NOTE: This is a developing story.