Confusion and conflicting remarks have once again emerged in public about how the electoral commission will be announcing the results of the 27 November elections
On Thursday, 24 October 2019, the Electoral Commission of Namibia (ECN) held a civil society engagement workshop in Windhoek at which a wide range of election related issues were presented and discussed.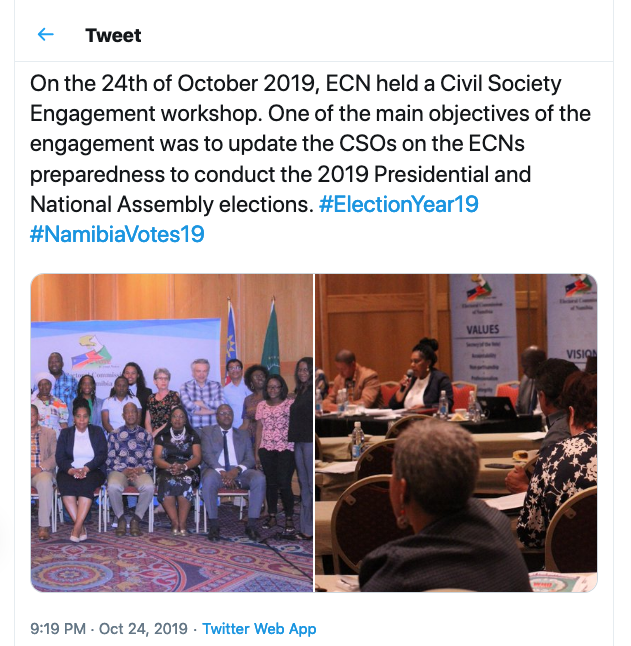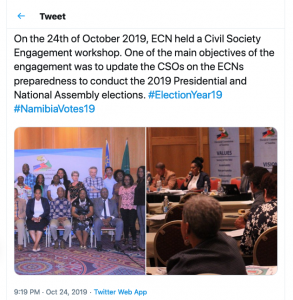 According to the homepage statement on the website of the ECN, one of the main aims of the engagement was "to update the CSOs on the ECN's preparedness to conduct the 2019 Presidential and National Assembly elections".
The event consisted of ECN officials, and some CSO representatives, doing presentations and providing information on some of their ongoing election related activities.
In a wide ranging presentation at the event, ECN chief electoral officer Theo Mujoro also addressed the processes that would be followed in announcing or transmitting the results of the 27 November 2019 elections.
The issue of how results are announced and the processes followed have been long-standing electoral flash-points and have reared their heads again in the run-up to the 2019 elections.
For instance, in a media report of an confrontational meeting between the ECN and political parties on Tuesday, 29 October 2019, a Popular Democratic Movement representative was reported to have said that "the commission had failed to keep to its promises of ensuring that political parties are represented at all results collation centres throughout the electoral process".
At the 24 October 2019 meeting with CSOs, the point in the presentation at which ECN chief electoral officer Mujoro dealt with how the upcoming election results would be announced, looked as follows: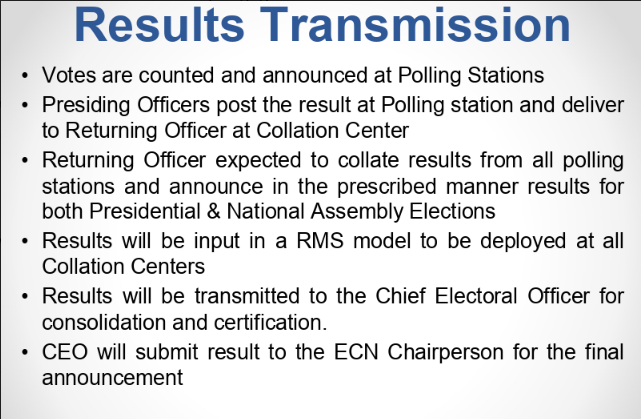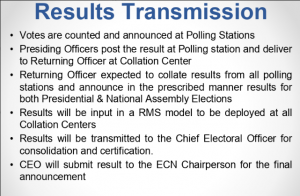 According to what was presented, the results announcement process in short would be as follows:
Polling station results would be announced at the respective polling stations across the country;
The results are then sent to constituency collation centres for verification;
The collation centres then transmit results to the collation center at the Central Elections Results Centre (CERC) in Windhoek;
After certification at the CERC, the results would then also be officially announced at the CERC.
The ECN chief electoral officer's complete presentation can be viewed here.
In the end, it is up to political parties and voters to ensure that these processes are clarified and followed as stated.