Image courtesy: Namibia Fact Check / Canva
A false claim about Rwandan president Paul Kagame appointing a 19-year-old to his Cabinet has gone viral on African social media.
From what Namibia Fact Check could establish, there is no 19-year-old Rwandan minister named Patrick Nkuriza and there is no 'Ministry of New Technologies and Development' in Rwanda.
The false claim made a turn on Namibian social media on 6 October 2020 on the Facebook feed of a page called Namibia Daily News, which had shared a post of a page called CNN Zambia earlier on the day.
Both posts were shared more than 200 times, had over 200 likes and had attracted hundreds of comments of admiration and support by the afternoon of 6 October 2020. The false claim was by then clearly viral on Namibian social media.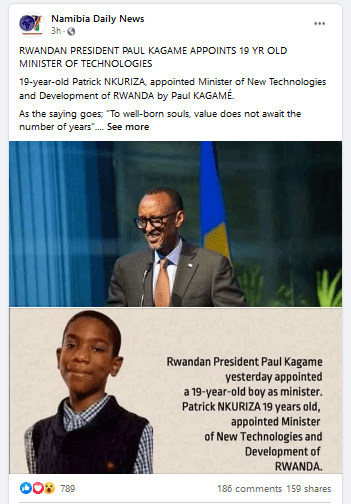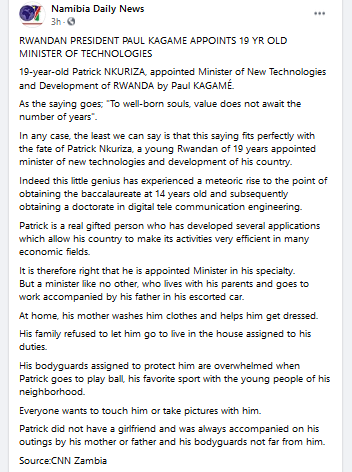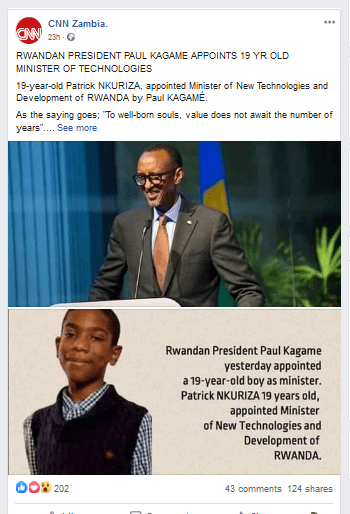 According to the Facebook posts, Rwandan president Paul Kagame has appointed a 19-year-old named Patrick Nkuriza as minister of 'New Technologies and Development' of Rwanda.
The truth
The story of the appointment of 19-year-old Patrick Nkuriza was fairly quickly debunked, on 5 October 2020 already when it seems the story first started doing the social media rounds in parts of West Africa.
On 5 October 2020, the Rwanda-based Kigali Today reported that there was no government department called the 'Ministry of New Technologies and Development', that no-one named Patrick Nkuriza was appointed to the Kagame Cabinet, and that, in fact, it appeared a person or political prodigy named Patrick Nkuriza did not exist. Another debunk of the false claim was published by the Standard Digital Fact Check desk of Kenya's The Standard on 6 October 2020.
The image of a boy that appears in the posts, is identified as that of British teen genius Ramarni Wilfred by both Kigali Today and the Standard Digital Fact Check desk. Namibia Fact Check did a Google image search which established that the boy in the images was in fact Ramarni Wilfred and not someone named Patrick Nkuriza. The same image of Ramarni Wilfred used in the October 2020 false Facebook posts was used in a 2017 online article by African Leadership Magazine.
The story of the fictional Patrick Nkuriza seems to have resonated with many African young people, including Namibian youth, because it spoke to the gaping generational rifts influencing African politics, with young people feeling left out and powerless as elderly, mostly male, leaders continue to rule across the continent.