IMAGE: Namiba Fact Check
The COVID-19 relief grant scam continues to circulate, despite having been debunked months ago already.
Here's another scam that refuses to die down because people keep on sharing links in especially WhatsApp groups.
A message being shared around in WhasApp groups states:
"Apply For The Government Phase 4 Covid-19 Relief Fund Grant Provided By The Government. Hurry Now, It takes few seconds to apply. Dont miss this opportunity."
The message is accompanied by an unsecured link, as indicated in the screenshot image below.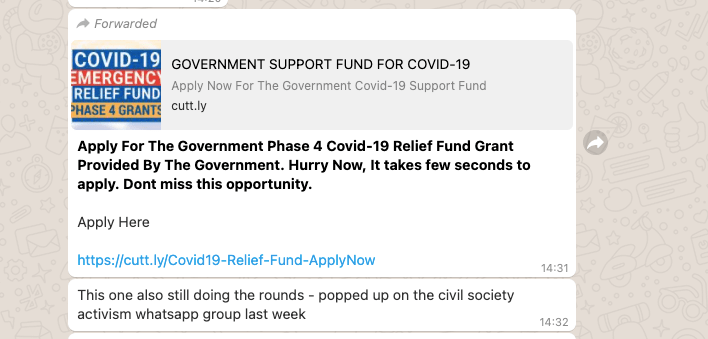 However, Ministry of Finance spokesperson, Tonateni Shidhudhu, indicated to Namibia Fact Check on 18 May 2021 that the the Namibian government did not have a "COVID-19 Emergency Relief Fund" and was not offering "phase 4 grants" to the public and he cautioned people to check whether the WhatsApp post or the linked webpage mentions the Namibian government anywhere.
This is not the first time that such a scam has done the rounds, for in February to early March 2021 a similar scam circulated in especially WhatsApp groups. At the the time the finance ministry had also been called on to dispel the scam, which appeared to have gone viral.
These scams appear to originate in Nigerian social media groups, from where they make their way into WhatsApp groups and social media feeds across the continent and even beyond.
Namibians are cautioned to not provide any private information, such as bank account details, to such scammers by filling in online forms in the hope of accessing a non-existent Namibian government grant.