Image source: WhatsApp
A false viral social media post has been pushing the claim since late February 2020 that Israeli scientists have created a vaccine for the novel coronavirus.
The false social media post, of someone holding up a vial labelled 'Coronavirus Vaccine', has been making the rounds on social media globally for a few weeks since late February and has been shared and forwarded thousands of times.
The post has also been recurring on Namibian social media pages and profiles, especially repeatedly circulating through WhatsApp groups.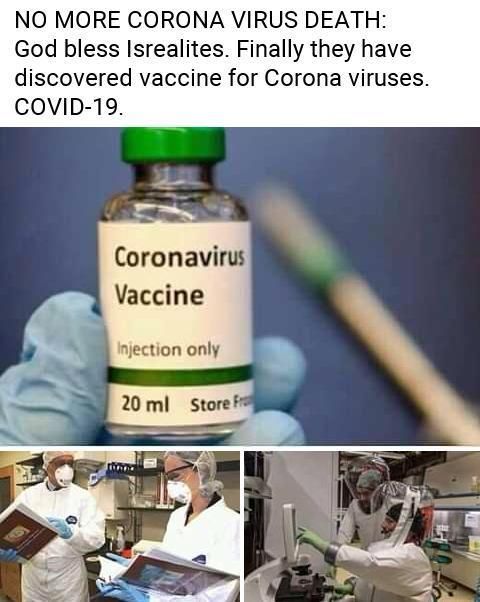 The post has already been debunked before now.
On 6 March 2020, AFP Fact Check published an article debunking the post. The AFP Fact Check article states:
"The claim is misleading; Israel's MIGAL Research Institute said in a press release in February 2020 that it was still working to develop a vaccine for COVID-19; the image of a vial labelled "coronavirus vaccine" in the misleading Facebook posts was taken from a stock photo website."

– AFP Fact Check
The article refers to a 27 February 2020 statement on the website of the Migal Galilee Research Institute, based in Israel, which opens with the following:
"After 4 years of research funded by Israel's Ministry of Science & Technology, MIGAL's researchers have developed an effective vaccine against avian coronavirus Infectious Bronchitis Virus (IBV), to be adapted soon and create a human vaccine against COVID-19"

– Migal Galilee Research Institute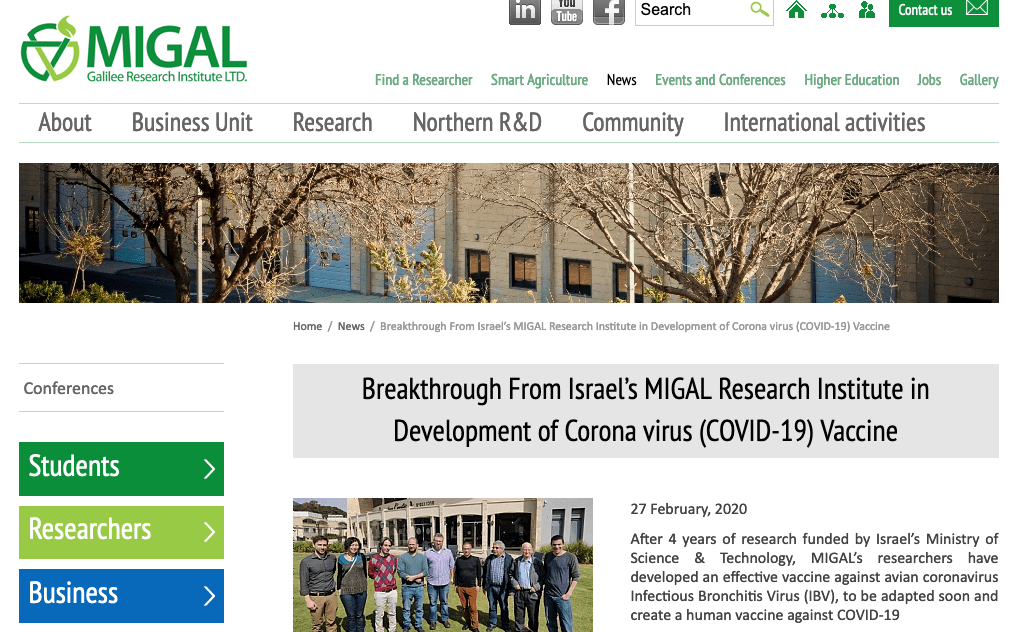 As for the image of the vial labelled 'Coronavirus Vaccine', AFP Fact Check states:
"A Google reverse image search for the photo in the misleading posts found it was previously published on the stock photography website Shutterstock"

– AFP Fact Check
As to actual progress on a vaccine or cure for COVID-19, as of 9 March 2020, the World Health Organisation (WHO) maintains the following:
"To date, there is no vaccine and no specific antiviral medicine to prevent or treat COVID-2019. However, those affected should receive care to relieve symptoms. People with serious illness should be hospitalized. Most patients recover thanks to supportive care. Possible vaccines and some specific drug treatments are under investigation. They are being tested through clinical trials. WHO is coordinating efforts to develop vaccines and medicines to prevent and treat COVID-19."

– WHO
With so much disinformation already surrounding the COVID-19 outbreak and spread globally, Namibians are urged not to share unverified images and posts via social media, as such content has the potential to cause confusion and panic in the midst of a health crisis.