Photo by Hitoshi Namura on Unsplash
The latest Bill Gates conspiracy theory has the tech billionaire and philanthropist peddling toxic fruit in a diabolical plan to kill humanity
In the conspiracy theory that has surfaced on social media in late April 2023, Bill Gates is accused of poisoning fresh produce, such as avocados, with "toxic mono & diglycerides" that "will kill you slowly". The claims are accompanied by hashtags #WeWantAnswers #BillGatesBioTerrorist #NWO (New World Order).
One of the social media accounts that has virally spread the latest conspiracy theory is titled 'Isaac's Army', which has a following of over 43,000, with a post (image below) that has been viewed more than 1,3 million times on Twitter since 30 April 2023.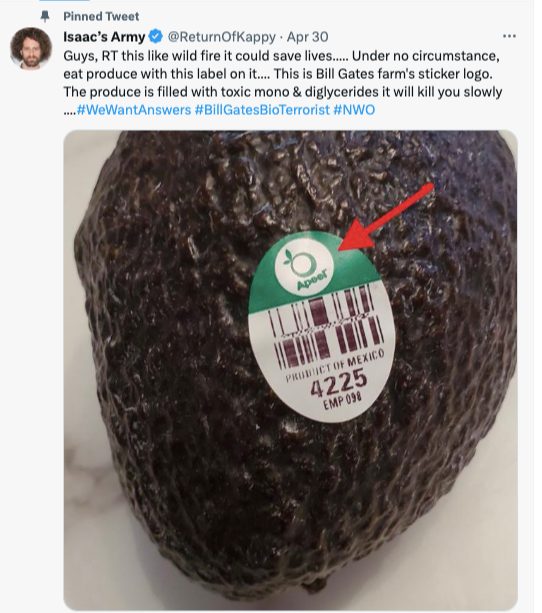 This post has also been shared by Namibian social media users.
The conspiracy theory
Fact checks available online show that 'Isaac's Army' does not appear to be the originator of the conspiracy theory or the first social media feed to have broadcast it.
Fact checks by AP News on 18 April and by Politifact on 19 April show that this particular conspiracy theory was circulating weeks before 'Isaac's Army' first posted about it on 30 April.
According to reports, implicated at the heart of the conspiracy theory is a company called Apeel Sciences, which reportedly received a grant from the Bill & Melinda Gates Foundation that went towards the development of its Edipeel product, which its online marketing material describes as follows:
"Our product, Edipeel, is a thin, edible postharvest coating made from plant-derived materials, designed to be consumed, that meets the Food and Drug Administration (FDA) requirements for qualification as Generally Recognized as Safe (GRAS) in the United States. 

Apeel's Edipeel is allowed for use on fruits and vegetables in the United States, Canada, Chile, China, Colombia, Japan, Kenya, Mexico, Peru, and South Africa, without restriction. Additionally, Edipeel is allowed for use on the following fruits in the European Union, Norway, Switzerland, and the United Kingdom: avocados, citrus fruit, mangoes, papayas, melons, bananas, pineapples, and pomegranates. Edipeel is allowed for use in additional countries beyond those listed here."
The conspiracy theory, seemingly deliberately, equates or confuses Apeel Sciences' Edipeel for a chemical surface cleaner produced by a British company called APEEL, according to a Reuters fact check from 26 April.
In short, the conspiracy theory misleadingly uses safety data for APEEL's surface cleaner to claim that Apeel Sciences' Edipeel is unsafe and another Bill Gates attempt to poison the world and "kill you slowly" as part of his evil global population control scheme.
To be clear, Apeel Sciences' Edipeel is not a killer chemical created by Bill Gates to poison fresh produce.