A post circulating on social media for most of April 2023 promotes a cash grant scheme that is meant to harvest personal information
The post claims that the President of Namibia, Hage Geingob, and the President of Zambia, Hakainde Hichilema, have initiated a grant scheme that awards N$3,000 grants to Namibian nationals.
The post which was sent via WhatsApp to Namibia Fact Check reads as follows:
The WhatsApp Link
The post instructs the participants to apply for the grant using a link which is provided for at the bottom of the post. Namibia Fact Check followed the link and discovered the following:
The link directs you to a basic unofficial web page titled "HAGE GEINGOB 3,000 NAD CASH GRANTS FOR NAMIBIANS." 
The page states that the participant will receive N$3,000 if they fill in a cash grant form which is provided for on the webpage. 
The following personal information is required to be filled in on the form: title, name, surname, contact details, email address and city of residence. 
The Facebook Posts
The viral post was first posted to a Hage Geingob Facebook fan page on 3 April 2023.
On the same day the Office of the President dismissed the claims of such a grant as fake (image below).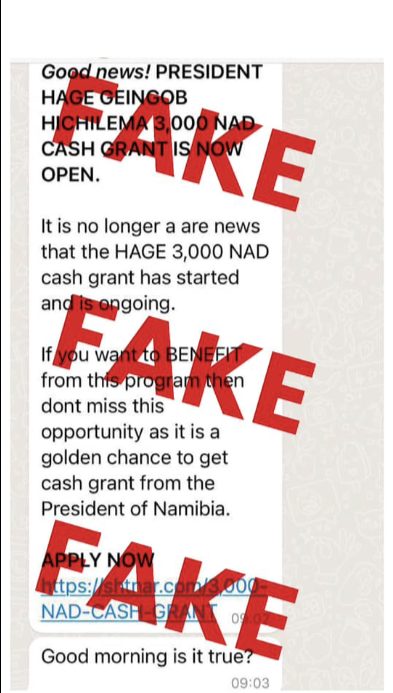 Despite this, the post continued to circulate in different forms. It appeared in the Buy and Sell Windhoek only Facebook group, with over 7,000 members, on 10 April.
In the 10 April post (image below) those interested in accessing the grant were required to comment "CASH GRANT" below the post to apply for the grant and to call a Namibia listed mobile number, instead of clicking a web link.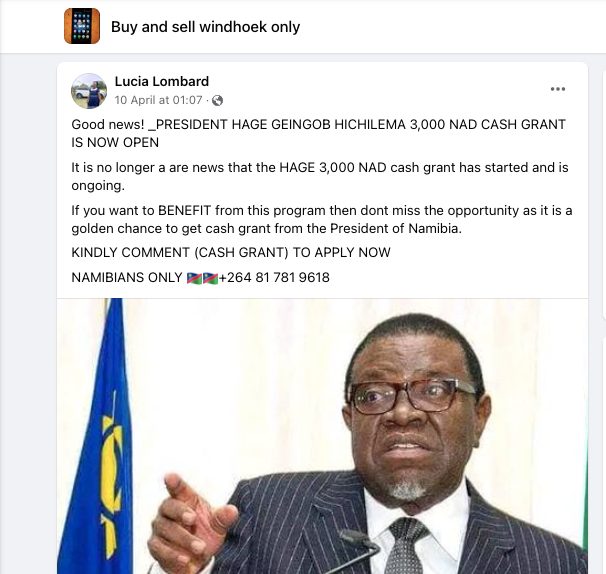 The post emphasises that the grant is for Namibians only and the contact number displayed appears to be that of someone called Lusia Lombard, who created the Facebook post.
The scam post is one among an increasing number of such scams being perpetrated via social media platforms.
Social media users are cautioned to not provide any personal information and to rather verify with official sources before taking part in social media promoted schemes calling for registration.