In the wake of the xenophobic attacks and violence in the Gauteng Province of South Africa of late August and early September 2019 a racist quote attributed to late former South African president Pieter Willem (PW) Botha has gone viral on social media.
However, Namibia Fact Check has not been able to verify whether the statements attributed to Botha were actually made by the apartheid-era South African head of state, who was president of that country from 1984 to 1989.
It is thus unproven that Botha made the viral racist statements.
According to those who post and share the suspicious Botha statements, he was alleged to have said:
"Black people cannot rule themselves because they don't have the brain and mental capacity to govern a society … Give them guns, they would kill themselves; Give them power, they will steal all the government money; Give them independence and democracy; they will use it to promote tribalism, ethnicity, bigotry, hatred, killings, and wars!"
An example of a post bearing the alleged PW Botha statements looks as follows: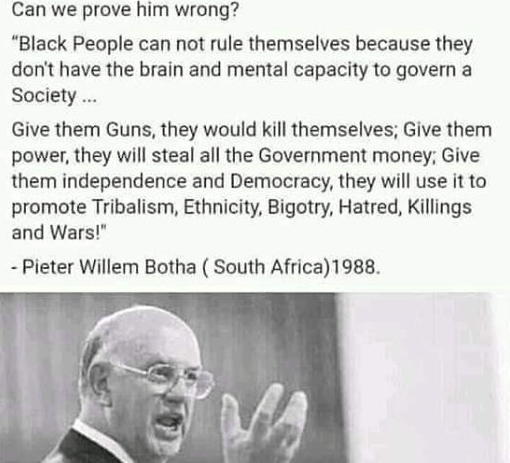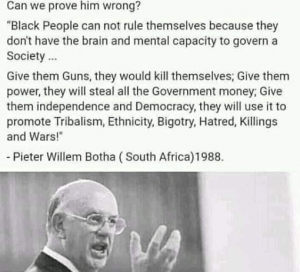 While the alleged Botha racist statements have primarily been shared in the context of and in response to the recent xenophobic violence in South Africa – asking Africans "Can we prove him wrong" – the same posts have also recently been shared on Namibian social media as commentary on Namibian government and governance issues in the run-up to the 27 November 2019 National Assembly and presidential elections.
Namibia Fact Check has scoured the internet for credible sources where the quoted statements could have been sourced from, but has been unable to find such sources. And while the statements bear the signs of being fake, this can also not be categorically proven.
As the image above indicates, Botha is alleged to have made the statements in 1988. In some versions it is said he made the statements on an international platform during that year. However, no reports of him making such statements during that year, in public, on an international platform, come up in online searches.
Other signs that point to the statements being most probably fake include:
The use of capitalised letters mid-sentence;
The use of exclamation marks for emphasis.
It is against this backdrop that Namibia Fact Check rates the statements unproven as having originated with PW Botha.
NOTE: This post will be updated if and when the statements are definitively proven or disproved as having originated with PW Botha.