A post falsely claims that MTC Namibia is running a 30-day data give-away to celebrate Namibia's Independence Day
The post appears to have started circulating around WhatsApp just in time for Namibia's 33rd Independence Day celebration, which was on Tuesday, 21 March 2023.
The post was first forwarded to Namibia Fact Check on Sunday, 19 March 2023. Since then it has continued circulating in WhatsApp groups.

The viral post contains a link that supposedly takes the viewer to a webpage where they can then claim the 10GB free data, after answering some questions.
However, the link is not an MTC Namibia webpage link, even though the page that opens up contains MTC Namibia branding.
Instead of directing the victim on how to access the free 10GB data, once the questions have been answered, the victim is informed that only by forwarding the same link to a number of other people will they be able to access the 10GB free data.
MTC Namibia has, of course, already debunked this scam, notifying customers of its existence via it's social media pages already on Sunday, 19 March 2023.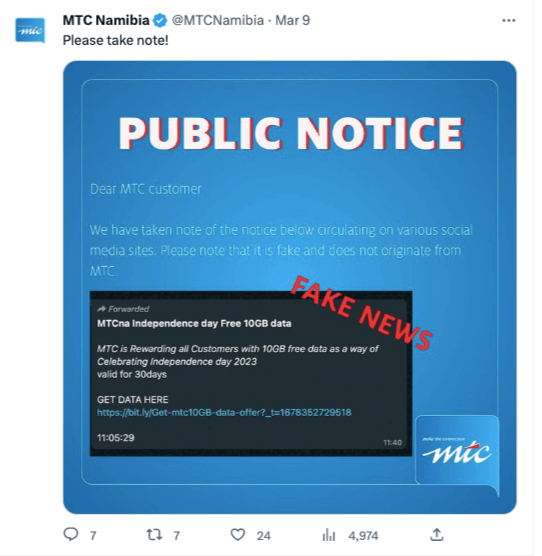 Despite this, the scam continues to circulate in WhatsApp groups.
Knowing these scams when you see them
This is a classic click-bait scam meant to get people to click on a bogus link that requests of them to provide personal information that the scammers can then harvest.
The survey scam appears to be one of the most popular Whatsapp scams, and Namibia Fact Check has dealt with a number of them over the last year or so. The scam takes on different forms, but it is essentially the same, just with different logos, dates and prizes. The prizes of course never materialise, while the victims are either scammed out of personal information or are directed or exposed to other compromising online content, such as pornographic material.
These scams have tell-tale signs that mark them out:
They usually circulate around big dates or events, such as Namibia's Independence Day, or they make up celebratory events, such as this Pick n Pay 50th Anniversary.

They promise free items, such as in this case, 10GB free data.

The link does not click through to the official website of the entity being imitated to perpetrate the scam.

The scam always requires 'applicants' to complete a survey and forward a link to other persons or give up personal details or particulars in order to access the reward.