Image Courtesy: World News Daily Report
A satirical Instagram post was widely shared in September with the claim that incestuous marriages have been legalised by the highest US court.
This is one of those cases where you're just struck by the fact that some people don't know when they're dealing with a joke.
In any case, in early September 2022 Namibia Fact Check was forwarded a screenshot of an Instagram post via WhatsApp that had also been circulating in other social media.
The post looked as follows: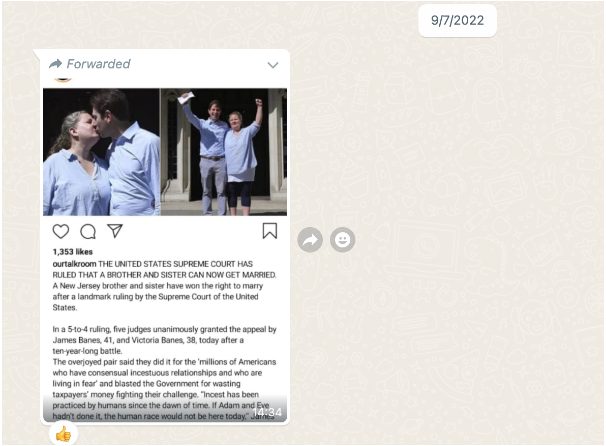 The post appeared to be a screenshot of a post published on the Instagram profile of a Nigerian gossip and entertainment site titled Our Talk Room. The Instagram post had over 1,300 likes on the Nigerian page.
The screenshot of the post that was forwarded to Namibia Fact Check stated:
"In a 5-to-4 ruling, five judges unanimously granted the appeal by James Banes, 41, and Victoria Banes, 38, today after a ten-year-long battle. The overjoyed pair said they did it for the 'millions of Americans who have consensual incestuous relationships and who are living in fear'' and blasted the Government for wasting taxpayers' money fighting their challenge."
The facts
The US Supreme Court has not ruled that brothers and sisters can marry each other.
The claim was taken from a satirical post published by the World News Daily Report, which describes itself as follows in the disclaimer on its website:
"WNDR assumes … all responsibility for the satirical nature of its articles and for the fictional nature of their content. All characters appearing in the articles in this website – even those based on real people –  are entirely fictional and any resemblance between them and any persons, living, dead, or undead is purely a miracle."
It is unclear when the satirical article was published by World News Daily Report, but the earliest comment to the article was posted on 18 November 2019, suggesting that the article has been circulating on the internet for around three years. The article appears to have been shared about two million times on Facebook, according to the website.
However, the photos published with the article are those of Rebecca Steinfeld and Charles Keidan, who "won a legal bid at the UK's highest court for the right to have a civil partnership instead of marriage", according to a 27 June 2018 Sky News article.
According to the report, the couple had previously been prevented from entering a civil partnership because British law stated that only same-sex couples are eligible for civil partnerships and not heterosexual couples.