Image Courtesy: vancouvertimes.org
A satirical 'article' virally shared via social media 'reported' that World Health Organization director Tedros Adhanom Ghebreyesus has been arrested for crimes against humanity.
This is not a real fact check, but a reality check for people who believe (and there appear to be many) that this satirical claim is true.
The WHO director's 'arrest' was 'reported' by a website called Vancouver Times on 24 July 2022 and the 'report' has since then become a viral social media sensation.
The 'article', written by someone named Jason Pires, states:
"Tedros Adhanom Ghebreyesus, the current director of the World Health Organization (WHO) has been arrested by Interpol and is being held in prison for crimes against humanity and genocide. This comes as police agencies across the world have begun targeting politicians, businessmen, and corporate leaders for their role in the "plandemic," and for pushing unnecessary and deadly vaccines on the human population."
The 'article' was widely shared on Facebook and on Twitter, with some in comment sections clearly responding to it as if believing or wanting it to be true. This despite it clearly stating at the bottom of the 'article': 
"This is a satire article. Health officials consider COVID-19 vaccines to be safe and effective."
The facts
In its About Us section Vancouver Times describes itself as:
"Vancouver Times is the most trusted source for satire on the West Coast. We write satirical stories about issues that affect conservatives."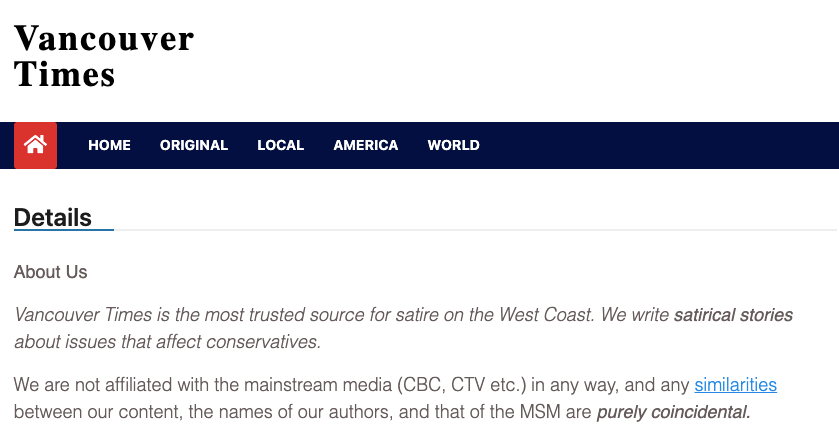 Despite these obvious pointers to the 'article' being made-up and a joke, the fact that fact checkers had to debunk it indicates the extent to which some people thought it was true or shared it as if it were true.
The 'article' was fact checked and debunked by the likes of Reuters, Snopes, USA Today, as well as other fact checking services.
Namibian social media users should know when a joke's a joke.