IMAGE: Namibia Fact Check / WhatsApp
Viral social media posts claim WhatsApp privacy settings for groups have changed overnight recently, but this isn't true.
Viral messages circulating on social media and WhatsApp in May 2021 misleadingly claim that the messaging platform recently changed its group privacy settings overnight.
The messages that have been going around in Namibian social media and WhatsApp groups look something like this:
"Hi all, WhatsApp changed privacy settings last night without warning. This means this group and all other groups you are in are now open to everyone. So please change your settings. Here's some background and how to change your settings. 

WhatsApp settings were updated last night without warning. 

Its group settings include "everyone" by default so people you don't know can add you to a group without you ever knowing.  These may include scammers, loan sharks

etc……..

You can change the default settings as follows:

1. Go to WhatsApp:

2. Go into Settings

3. Go to Account

4. Go to Privacy

5.  Go to Groups

6.  Change from (Everyone) to (My Contacts)

I checked mine and they had all changed to being all open to everyone. 

Please share with your other groups."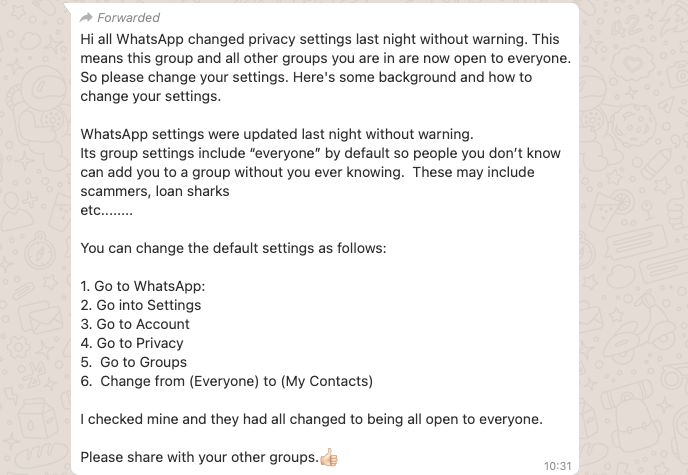 Similar messages have been going around in WhatsApp and social media groups in other parts of the world.
What is true
The posts claiming that WhatsApp group settings have changed overnight or "last night" have been debunked repeatedly recently.
First, the post does not indicate where or who it comes from, and second, it's unclear when "last night" was when the privacy settings were allegedly changed. 
According to an article from 21 May 2021 by online technology publication Tech Advisor:
"WhatsApp hasn't changed the privacy settings for groups, at least not for a few years. In 2019, an update added new options for choosing who can add you to a WhatsApp group: "Everyone", "My Contacts" and "My Contacts Except…".

The latter gives you more control over your list of contacts, and replaced the original "Nobody" option."
Basically, the privacy setting being discussed in the viral post is real, and the instructions provided to change to a more secure privacy setting are accurate. 
However, the changes that people seem to think are recent or happened "last night" were already announced by WhatsApp in November 2019, as this WhatsApp statement on New Privacy Settings for Groups indicates.
To be clear and to emphasise, by quoting a 19 May 2021 article by thatsnonsense.com:
"For optimal privacy, it is recommended to select My Contacts instead.The messages spreading on social media provide accurate instructions on how to do this.

But be aware that this isn't some overnight change to how WhatsApp settings work. Most users have not actively changed this privacy option, and as such have been using the Everyone setting [most likely] since they started using WhatsApp.

Any claim or implication that the default option was My Contacts and this was changed to Everyone by WhatsApp is false (on our own accounts that we did change to My Contacts, My Contacts was still the selected option.) Additionally any claim that these privacy settings are new are also false."
Once again, don't believe everything that gets shared around or forwarded in social media groups.