Photo courtesy of PDM
Venaani claimed the party was not allowed to use the stadium, but the Gobabis council relented and allowed them to go ahead
On Friday, 1 November 2019, Popular Democratic Movement president McHenry Venaani tweeted the following: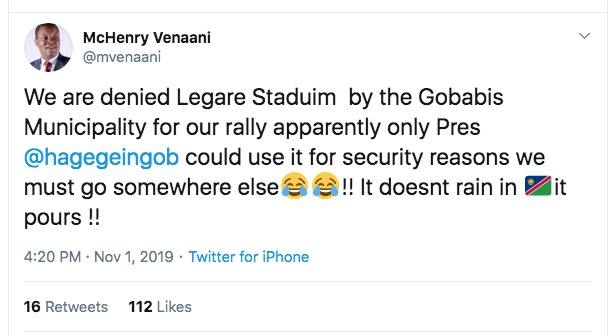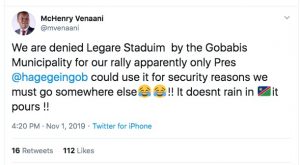 This was in response to the party having requested the use of the stadium for an election campaign rally at Gobabis, scheduled for Sunday, 3 November 2019.
The sequence of correspondence concerning this matter was as follows:
On 18 October 2019, the PDM wrote to the Municipality of Gobabis, to among others request the use of the Legare Sport Complex for a party election campaign rally on 3 October 2019;
On 23 October 2019, the Gobabis municipality communicated to PDM that the request to use Legare stadium – Field B – had been approved;
On 28 October 2019, the PDM wrote back stating that they wish to make use of Field A, which has covered seating, while Field B had no seating and was just a flat field;
On 30 October 2019, the Gobabis municipality once again responded, stating that Field A could not be used as it was being rehabilitated and would only be ready by end February 2020, while Field B was available. In the correspondence the municipality also revealed that Field A had been used for a ruling party rally on 19 October 2019, which was attended by ruling party and national president Hage Geingob, because a security assessment had determined that Field A at the complex was best suited for the event;
On 1 November 2019, the PDM responded and demanded to be allowed to use Field A at Legare stadium for the campaign rally of 3 November 2019.
It was also on the afternoon of 1 November 2019 that PDM leader Venaani tweeted the earlier statement.
However, following the correspondence, at some point over the weekend of 2-3 November 2019, the Gobabis authorities relented and allowed the PDM rally to take place on Field A at Legare stadium on 3 October 2019.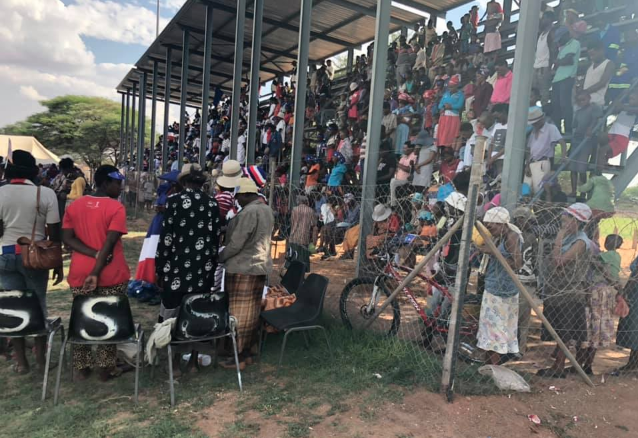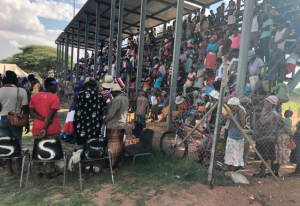 PDM rally-goers on the Field A covered seating at Gobabis' Legare stadium on 3 November 2019. Courtesy McHenry Venaani
Despite this, in the aftermath of the event, PDM leader Venaani never acknowledged the Gobabis council about-face or corrected his tweet about being denied access to Field A of Legare stadium at Gobabis.