Photo courtesy: The Namibian
The president recently falsely claimed that the ruling Swapo Party was "not covered" and "never on TV".
President Hage Geingob at a ruling party rally at Omuthiya, in Oshikoto region, on Friday, 15 November 2019, made the following claim:
"People are so desperate to destroy Swapo, and are trying anything possible just to disrupt and destroy Swapo. Newspapers, NBC and political analysts are all desperate to destroy Swapo. Newspapers have refused to write right, as if we have committed any crime. I do not know what crime we have committed. We are not covered, and we are never on TV"
Ironically, these statements come from a long article that appeared on Monday, 18 November 2019, in the The Namibian newspaper in which the president was extensively quoted, which immediately undercuts the claim of "We are not covered" by the media.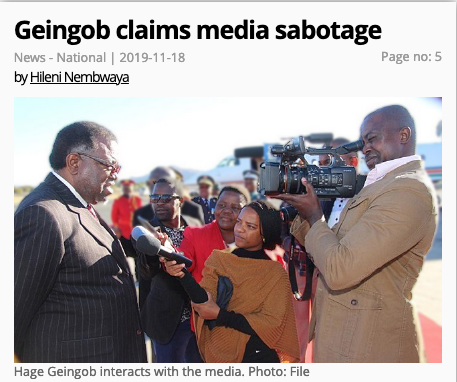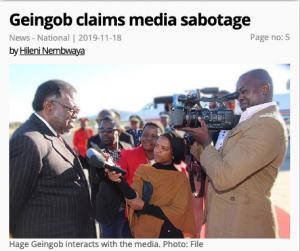 The same newspaper had also published an earlier story, on Saturday, 16 November 2019, about the Omuthiya rally, under the following headline: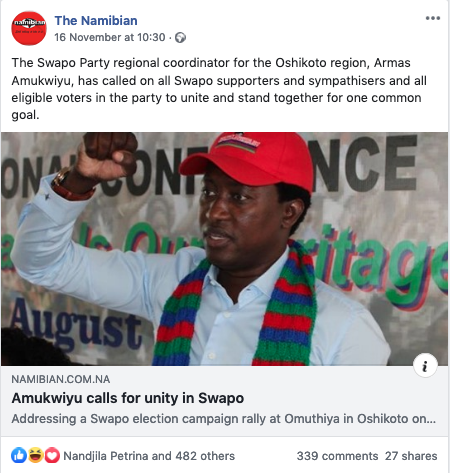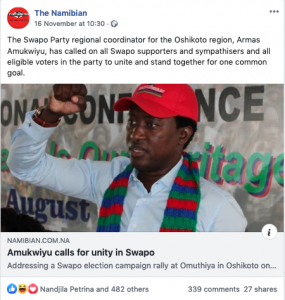 It is clear from the above image that the story in question was widely shared and commented on, on social media.
While these examples already show that the president's claim was clearly inaccurate, what was especially striking about the claim was the following phrase:
"… we are never on TV"
President Geingob was obviously referring to the Namibian Broadcasting Corporation (NBC) TV, which was singled out in the accusation about media sabotage through withholding coverage.
Namibia Fact Check investigated the president's claim and established that the NBC has in fact also provided extensive coverage of Swapo Party rallies and election campaign related activities throughout 2019.
To illustrate, following is a list of links to footage of Swapo Party rallies that were held across the country that appeared in NBC news broadcasts from 19 October 2019 to mid-November 2019. The video clips (from most recent) can be viewed on the broadcaster's website:
All except two of the video clips – Oshikuku and one of the Mariental rally clips – feature president Geingob addressing rally-goers.
The above list does not include coverage of other election campaign related activities of the ruling party, of which there are also numerous video clips on the NBC website. It should be noted that this coverage exceeds anything afforded opposition political parties.
In light of all this evidence, Namibia Fact Check finds the president's claim that the ruling Swapo Party was "not covered" and "never on TV" to be false.