Photo courtesy: Affirmative Reposition (AR) on Facebook
The question of the number of constituencies has come up as people have been pondering the outcomes of the 27 November 2019 elections.
The 2019 electoral period has revealed that many Namibians are still largely uninformed about many political and electoral aspects, including how many electoral areas or constituencies are spread across the country.
One such person asked the following question on Facebook in the wake of the 27 November 2019 presidential and National Assembly elections.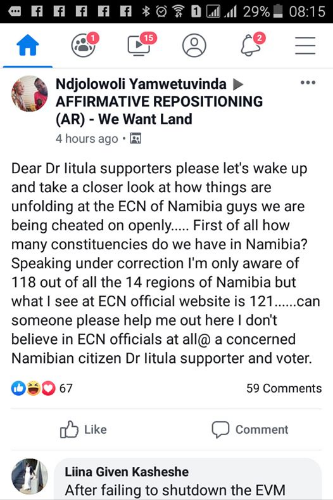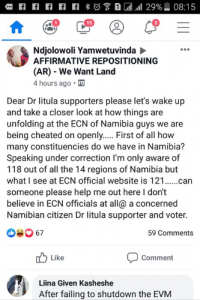 As can be seen, the above post enjoyed considerable engagement from other Facebook users and appeared on one of the largest political groups – the Affirmative Repositioning (AR) group with over 160 000 'followers' – where young Namibians gather virtually to discuss and debate national political affairs.
The fact is that Namibia has 121 constituencies across its 14 regions since 2013, when Proclamation No. 25 was gazetted in August of that year.
The proclamation followed the issuing of recommendations in the report of the Fourth Delimitation Commission, which was submitted in June 2013.
The report proposed the splitting of the former Kavango region into two – creating the Kavango East and Kavango West regions – and the forming of new constituencies through splitting existing ones and/or creating new ones, increasing the number of constituencies to 121, ahead of the November 2014 presidential and National Assembly elections.
Unfortunately, the report of the Fourth Delimitation Commission, which was established by former president Hifikepunye Pohamba, has never been publicly released, so it is unclear what informed the recommendations and decision to split the old Kavango region into two or to create more constituencies.
In the wake of the gazetting of Proclamation No. 25, civil society organisations, through the Access to Information in Namibia (ACTION) Coalition, in September 2013 called on the then president to release the findings of the report of the Fourth Delimitation Commission, stating:
Access to information should be regarded as the norm for Namibia in accordance with international law, with only limited exceptions being made. There can be no reason – in a democratic state such as Namibia – for the findings of a Delimitation Commission to be withheld from the public.
However, this call for transparency has never been heeded.
Disclaimer: The Institute for Public Policy Research (IPPR), and by extension Namibia Fact Check is a founding institutional member of the ACTION Coalition. The writer of this report, Frederico Links, is the founding chairperson of the ACTION Coalition.