All sorts of falsehoods, hoaxes, myths and scams continue to infect and pollute the COVID-19 information environment, while countries attempt to get to grips with both the pandemic and the infodemic.
The disinformation just keeps coming. June 2020 was another hectic month in the disinfodemic as false information continued to swell and swirl around the COVID-19 pandemic. Following is a roundup of some of the more notable occurrences of the disinfodemic over the month.
A Nigerian vaccine? NO
In late June 2020 it was announced to the world that Nigerian scientists had discovered a COVID-19 vaccine. The vaccine 'breakthrough' was reported by Nigerian newspaper Leadership on 20 June 2020 in an article that claimed that a group of scientists called the COVID-19 Research Group had discovered the vaccine and that "the vaccine was being developed locally in Africa for Africans".
The Nigerian vaccine discovery was all over Twitter, but days later the balloon was burst, as it became clear that there was no vaccine. The claim was debunked by Africa Check on 24 June 2020 and by The Guardian Nigeria newspaper on 26 June 2020. What the Nigerian scientists explained they had discovered was a potential candidate for a vaccine.
COVID-19 is caused by a bacteria and causes thrombosis? NO
This was a strange one, which also made its way into Namibian social media groups and chats. The story, which was told in both Afrikaans and English and came in various versions, was that Italian doctors had discovered that COVID-19 was not caused by the SARS-CoV-2 virus, but by a bacteria. And that people did not die of respiratory complications such as pneumonia, but of thrombosis (a blood-clotting condition). In some versions COVID-19 was activated by 5G radiation, but could be cured by taking antibacterial pills. This hoax traveled the world and for a list of all the places it has been debunked, visit the CoronaVirusFacts Alliance database and search for 'thrombosis'. The Namibian Facebook pages on which Namibia Fact Check encountered this hoax in June 2020 have since been scrubbed of this content, by the end of the month.
COVID-19 giveaway scams? REALLY
Scammers are out among the disinformation peddlers on social media. The following Facebook page has been marketed in Namibian Facebook groups in late June 2020. Namibian social media users should be on the lookout and cautious of such pages and social media offers.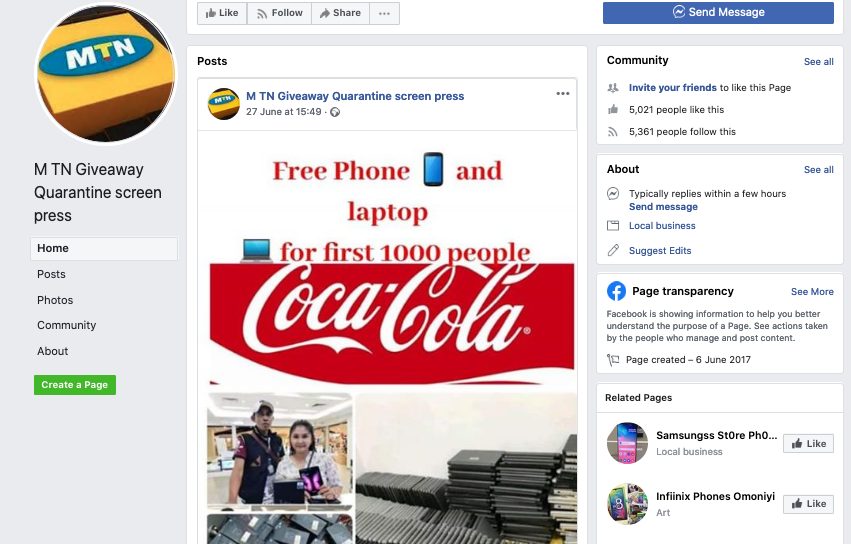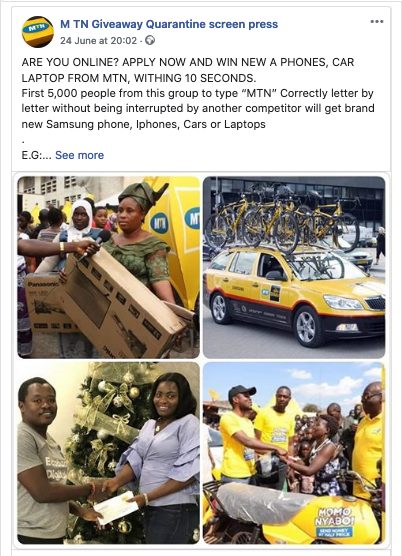 And in other news …
On 22 June 2020, representatives of 132 countries and regions from around the world issued a 'Cross-Regional Statement on "Infodemic"in the Context of COVID-19'.
The statement was co-authored by the following countries: Australia, Chile, France, Georgia, India, Indonesia, Latvia, Lebanon, Mauritius, Mexico, Norway, Senegal and South Africa.
The statement reads:
"In times of the COVID-19 health crisis, the spread of the "infodemic" can be as dangerous to human health and security as the pandemic itself. Among other negative consequences, COVID-19 has created conditions that enable the spread of disinformation, fake news and doctored videos to foment violence and divide communities. It is critical states counter misinformation as a toxic driver of secondary impacts of the pandemic that can heighten the risk of conflict, violence, human rights violations and mass atrocities."
And it makes the following call:
"For these reasons we call on everybody to immediately cease spreading misinformation and to observe UN recommendations to tackle this issue, including the United Nations Guidance Note on Addressing and Countering COVID-19 related Hate Speech (11 May 2020)."
And it concludes:
"We call for action by all Member States and all stakeholders to fight the "infodemic" to build, to quote the Secretary General, a "healthier, more equitable, just and resilient world". We remain committed to creating a healthy information environment at the national, regional and global levels, in which the "infodemic" is countered by scientific, evidenced-based information and facts. By doing this, we will be better prepared for dealing with the next "infodemic"."
Namibian social media users are advised to be cautious about what they share or forward on social media and messaging platforms, and to help steer each other to credible and verified information sources.