The Electoral Act of 2014 deals quite comprehensively with all sorts of political finance issues, including donations to parties and candidates, but it hasn't been fully implemented yet.
In his final Cabinet statement of the year on 6 December 2019, Namibian president Hage Geingob appeared to call for a law to be introduced to deal with political finance issues.
The president specifically said:
"I would also like to state that it is pertinent that we must work on a law which will clearly define election donations and campaign contributions to political parties in order to eliminate the grey area in which we currently operate."
The president brought up the issue of "election donations and campaign contributions" in the context of corruption.
The president's statement appears to indicate that he is unaware of the fact that the Electoral Act of 2014 already deals quite extensively and comprehensively with the issues he raised in the context of political finance regulation.
The relevant sections of the electoral law that deals with "election donations and campaign contributions" are sections 139, 140 and 141. Sections 140 and 141 detail exactly how donations and contributions are to be declared and reported.
Section 140 states: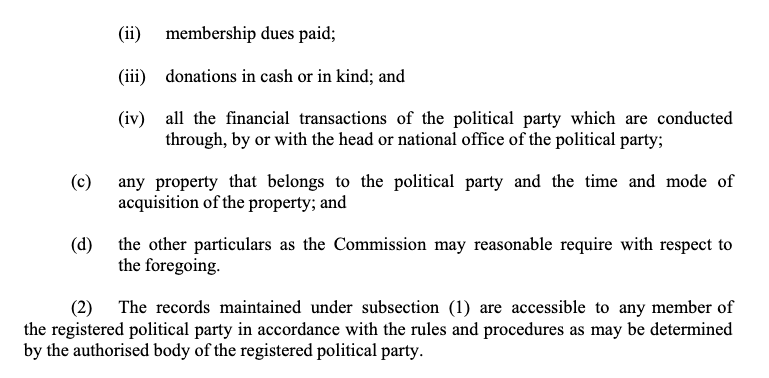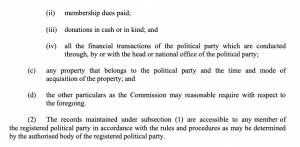 And section 141 states: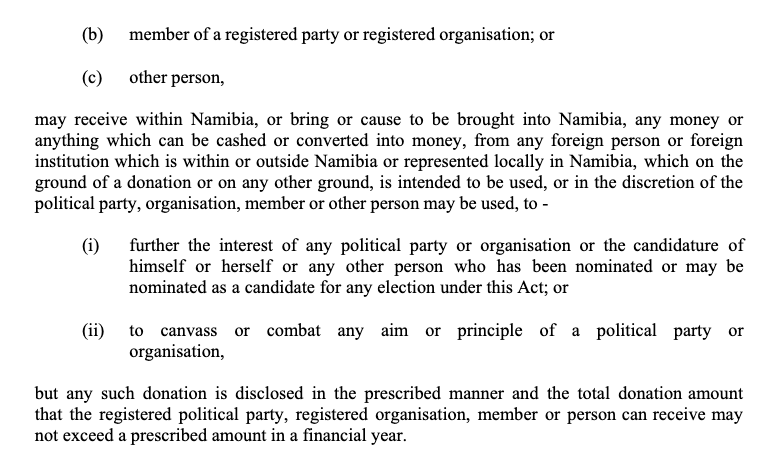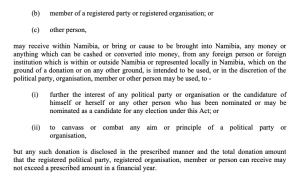 But while these provisions are clear, the stumbling block appears to have been implementation, for these sections have not been brought into force yet despite the law having been passed over five years ago. When questioned about this in August 2019, the Electoral Commission of Namibia (ECN) chief electoral officer, Theo Mujoro, stated:
"In terms of the Electoral Act, "prescribe" means prescribed by way of regulations24. Both sections 139 and section 141 of the said Act refer to a "prescribed form" as well as a "prescribed amount". In order to facilitate this, the Electoral Commission held a workshop and several consultative meetings with political parties to enable the parties to agree on this "prescribed amount" as referred to in section 141. This was agreed upon during this year [2019] and a draft of the regulations is currently with the Directorate: Legislative Drafting in the Ministry of Justice and will only be gazetted after it has been approved and certified by them25. Therefore, sections 139 and 141 are not currently in operation. Since the Act provides that the Commission will determine when it will come into operation, the Commission will consider the issue once the Regulations are gazetted."
This statement was made to researchers of the Institute for Public Policy Research (IPPR) working on a report on Namibian political finance for the institute's Democracy Report project. The political finance report was published and launched in November 2019, and can be accessed here.
In light of this, it is clear that Namibia does not need a new law to deal with "election donations and campaign contributions" to political parties, but rather that the provisions of the Electoral Act of 2014 be implemented urgently and fully.