Photo by Jon Tyson on Unsplash
Borderline violence-inciting posts and political hate speech continue to sow division and attract engagement on Facebook.
With Namibia once again approaching elections towards the end of the year, the tone of political engagements on Facebook remains highly concerning.
With campaigning for the regional and local authority elections warming up in the run-up to the elections of late November 2020, the same divisive, tribalistic and hate-fuelled speech that marked and marred electoral campaigning ahead of the November 2019 elections is making a disturbing comeback on the popular social media platform.
Namibia Fact Check recently encountered such speech in a Facebook group titled 'Hage Geingob Supporters Page'. The 'About' section of the group page states of its purpose:
"This group is a dedicated platform for supporters of Dr Hage Geingob, President of the Republic of Namibia. Dr Geingob is statesman par excellence, humanitarian, exceptional thinker and Panafican. His credentials as an educator, administrator and peacemaker are known far and wide. This group is dedicated to promoting the ideals he stands for and to contributing to his concept of a new Africa, for a new era."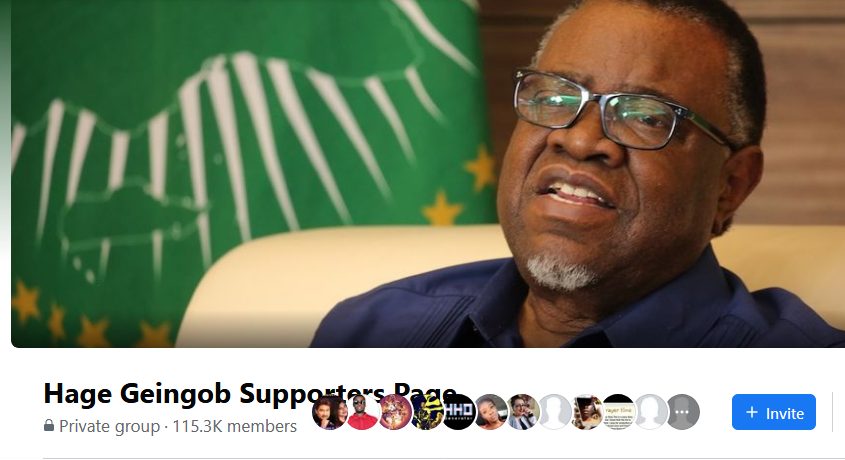 As the image indicates, the group has a very large following, at over 115,000.
The borderline hate-speech content that was flagged to Namibia Fact Check is a post from 28 August 2020, which states the following: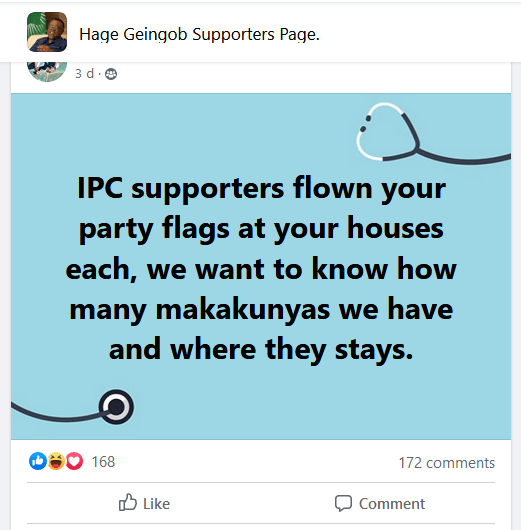 The 'makakunyas' being referred to in the post are supporters of Panduleni Itula's Independent Patriots for Change (IPC), a new break-away party from the ruling Swapo Party. Itula launched IPC at the end of July 2020.
'Makakunya' is a derogatory term that was used to refer to black members of the apartheid-era South West African security and military establishment, and especially members of the notorious counter-insurgency unit Koevoet of the South West Africa Police (SWAPOL) in the pre-independence era. The term is said to mean 'blood sucker' in Oshiwambo. A 'makakunya' is thus a parasitic traitor.
The Facebook post is clearly a thinly veiled threat and many of the accompanying comments are supportive and some even explicitly violence-inciting, with some commenters calling for 'makakunyas' to be "eliminated", in a tone and tenor suggesting physical violence.
While disagreeable and distasteful rhetoric and sloganeering are often part and parcel of electioneering processes, Namibians are encouraged to not veer into hate and violence-inciting speech that could only exacerbate an already highly fraught political climate.
At the same time, senior political leaders and political parties should call their supporters and members to order and remind them that incitement to violence and engaging in hate speech are crimes in Namibia and a violation of the code of conduct for political parties during election campaigning.