Image courtesy: Namibian Presidency on Facebook
Is 'black self-hate' really a thing in Namibia? Maybe, it's hard to say, but it's clear that fake posts are being used to stoke hostilities.
As Black History Month – which has been observed in the US since 1970 – drew to a close on 29 February 2020, the concept of 'black self-hate' had become a topic of meandering and divisive discussion on Namibian social media.
The topic was foregrounded by president Hage Geingob during a tirade-like break-away from the prepared script of his opening remarks at the first Cabinet meeting of the year, on 4 February 2020, when during comments related to corruption, he stated:
"People are angry because they see others are rich and they feel left out. That is why we are having this anger by young people. I read somewhere that people must go take photos of all those driving nice cars and having good houses. There are people living well and buying nice cars. That's self-hate."

"You want to tell me that there are no clean black people who are buying nice cars? All black people are corrupt by definition and so if they now have nice cars, they have stolen. This is self-hate."

– President Hage Geingob, 4 February 2020
While the president's off-script remarks had been widely reported on and commented on since then, in their wake the issue has attracted considerable discussion, debate and confrontation on Namibian social media.
However, the Namibian 'black self-hate' narrative didn't start with the presidents remarks, but has been in a low-key creep mode since before the elections of 27 November 2019, and has become more pronounced since the revelations of grand corruption in the fisheries sector in mid-November 2019, which ensnared high-ranking politicians and politically-connected business people.
What has become notable about the online discussions is that fake, provocative memes and posts have repeatedly been used to ostensibly provoke discussion and reaction.
A fake post that has become especially popular in social media 'black self-hate' provocations, not just in Namibia, but in similar such tense discussions around wider African political issues, is a statement attributed to former apartheid South Africa strongman PW Botha.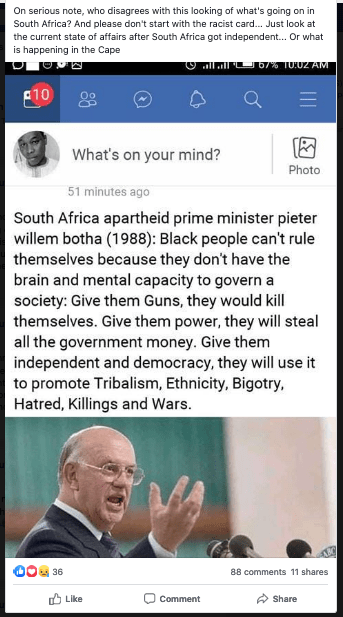 Namibia Fact Check has already debunked this particular meme, but it keeps making a come-back as a critical commentary on Namibian and wider African political governance failures and perceptions of widespread corruption and socio-political dysfunction.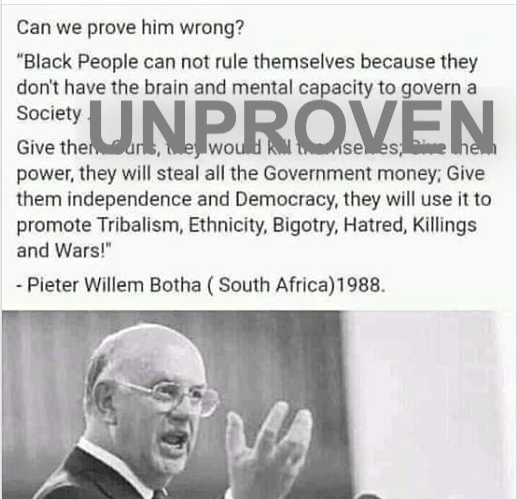 The almost certainly bogus PW Botha remarks even made it as the opening lines of a xenophobia-tinged reader contribution, by a Grade 11 pupil, to The Namibian's YouthPaper supplement in late January 2020.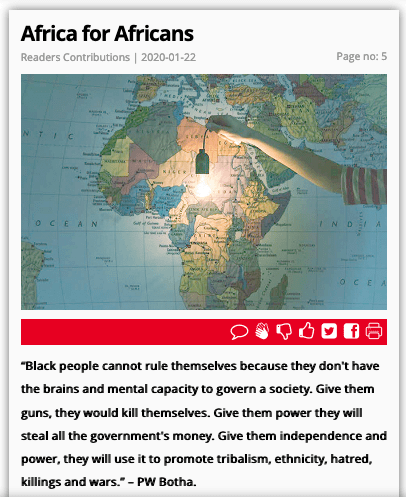 Another recurring disinformation favourite is a fake social media post attributed to former South African public protector Thuli Madonsela, which Namibia Fact Check and others have also long debunked.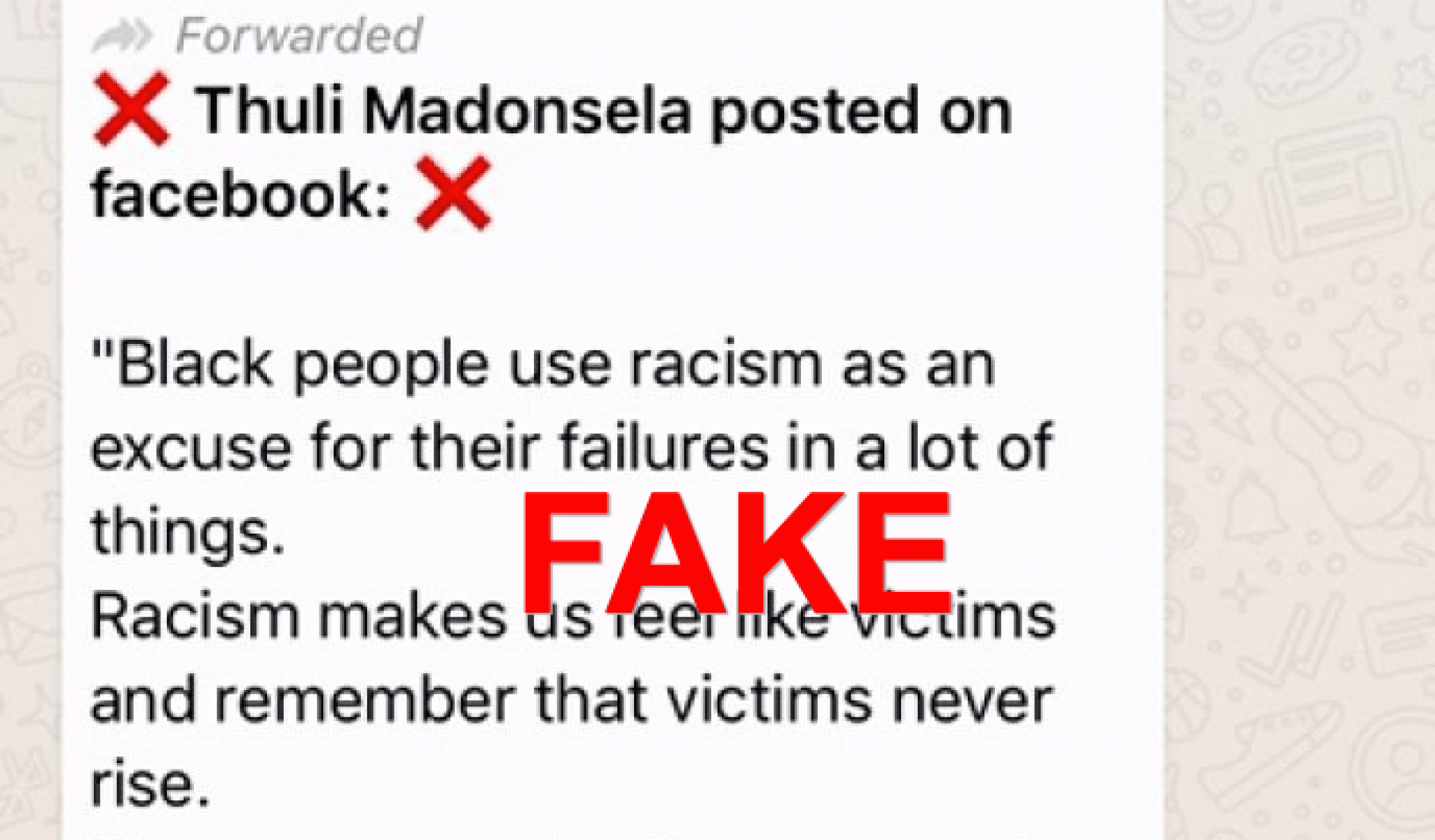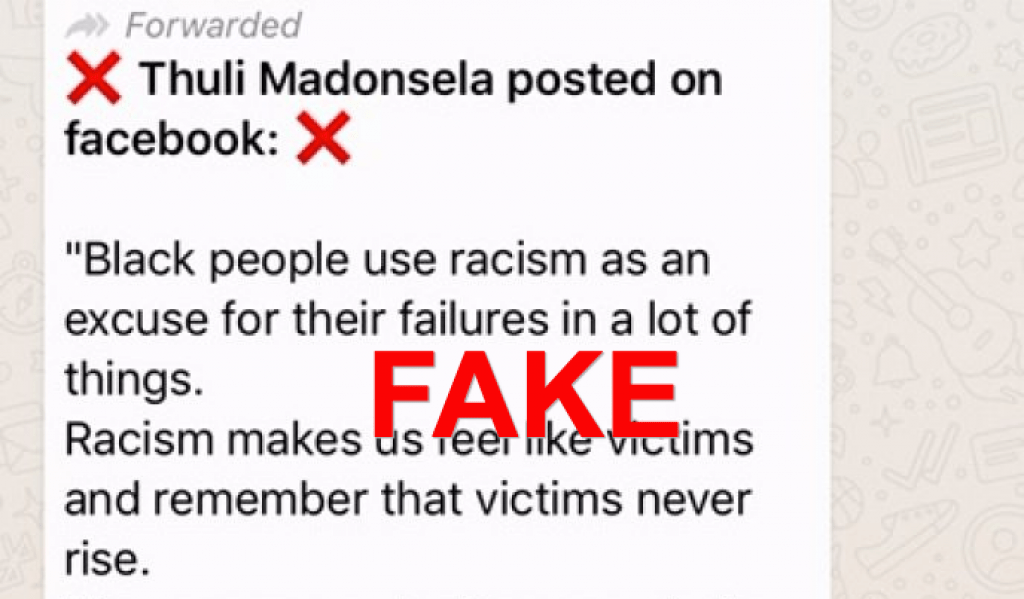 These are by no means the only examples of disinformation that have penetrated and polluted the online 'black self-hate' discussions throughout February 2020, but they stand as cautionary examples of false information that is stoking divisions around sensitive topics and further inflaming divisive engagements and reactions on social media.
As February 2020 came to a close, and as the 'black self-hate' topic had simmered down some on Namibian social media, Namibian social media users should be reminded that good-faith, solutions-seeking discussions do not flow from false information.